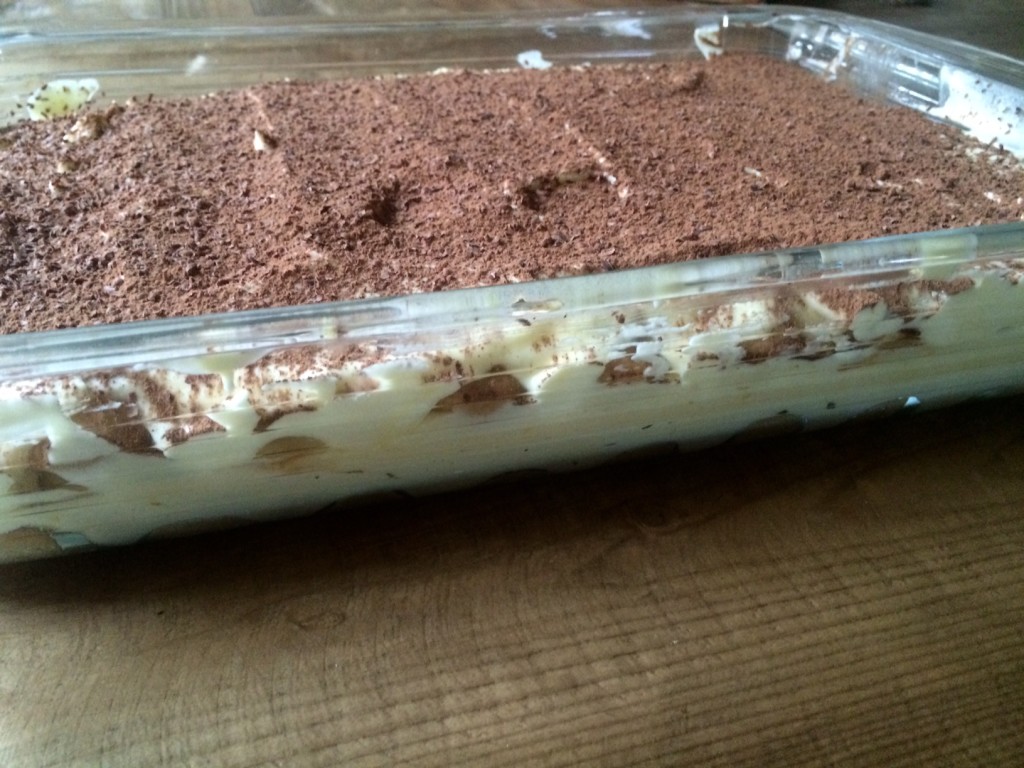 Serves: Approximately 12 Servings
Ingredients:
– 6 egg yolks
– 1 cup white sugar
– 1 1/4 cups mascarpone cheese
-1 3/4 cups heavy whipping cream
– 2 cups of espresso (cooled off)
– 2  packages lady fingers (approx 24 lady fingers total)
– 1/3 cup alcohol of your choice (grand marnier or rum)
Topping extras
– 1 teaspoon unsweetened cocoa powder (dust)
– 1 (1 ounce) square semi sweet chocolate (shaved)
Instructions: 
Chill large bowl in the fridge.
Combine the 6 egg yolks and 1 cup of sugar in the top of a double boiler.
Reduce heat to low.
Stir the egg yolks and sugar for about 10 minutes. (This step is to coddle the egg and prevent eating raw eggs). Remove the mixture from heat and allow it to cool.
Once cooled, beat the mixture until light in color and thick.
Add the mascarpone to the whipped yolk-sugar mixture. Blend well.
Add 1 tablespoon of espresso and mix until thoroughly combined.
Whip the whipping cream in the chilled bowl until stiff peaks are formed.
Gently fold the whipping cream into the yolk-sugar mixture and set aside.
Split the lady fingers in half.
Mix the expresso and alcohol and pour into flat dish.
Dip lady fingers and soak in espresso mixture for less than 5 seconds until soaked. (Not too long or it will become too soggy).
Line the bottom and sides of your serving bowl with the lady fingers.
Spoon half of the filling over the lady fingers.
Repeat with another layer of ladyfingers and top with the filling.
Sprinkle the top with cocoa powder and chocolate curls.
Refrigerate for a minimum of 6 hours or overnight.
Total prep time: 30 minutes