Zereshk or barberry is typically used in Persian dishes ranging from Iran to Western Afghanistan. Each bright glowing berry resembles a jewel which is packed with vitamin C. What does it taste like? It is very tart. Your mouth will quench as if you have just had a spoonful of lime juice. It is very powerful. The barberry is usually mixed with a tad bit of sugar to sweet the tart flavor. It is typically served along side saffron chicken and basmati rice.  There are many variations to Zereshk polo depending on the region of the country.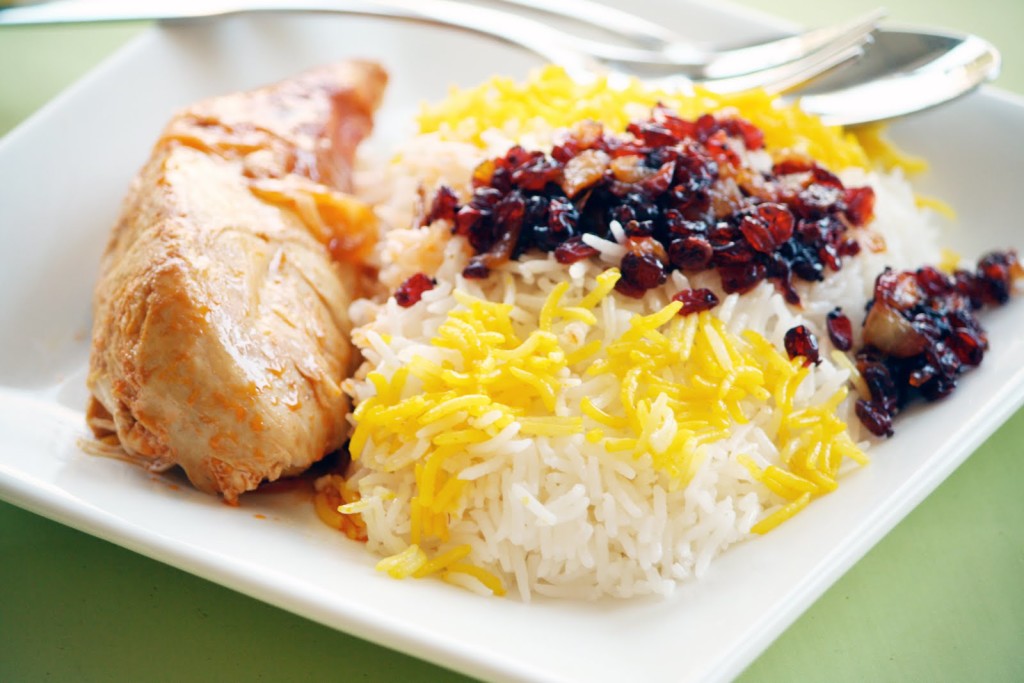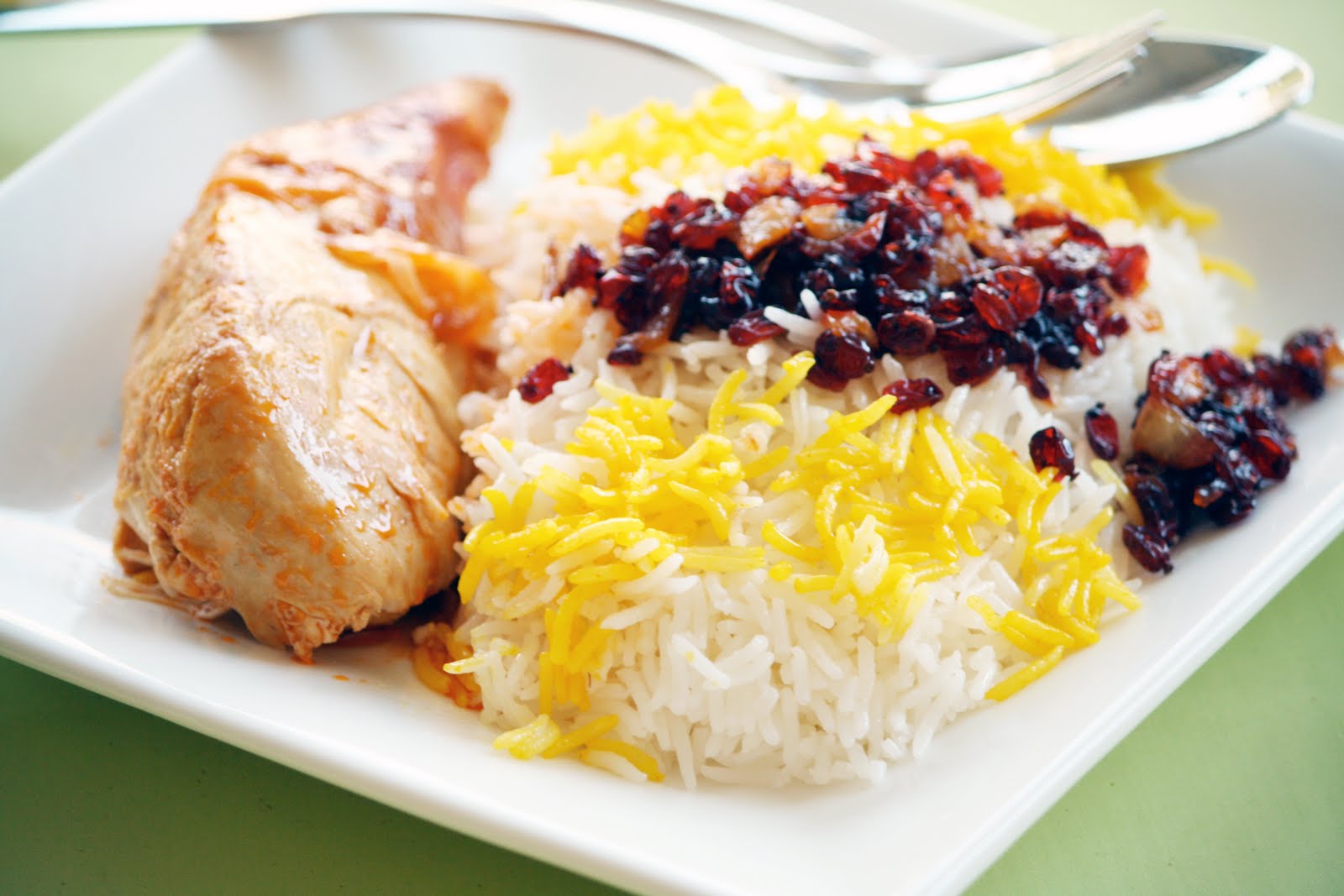 Ingredients (Serving 4)
4 cups long-grain basmati rice
4 chicken breasts
2 peeled onions, 1 whole and 1 thinly sliced
2 cloves of garlic, peeled
1/2 teaspoon salt
1/4 teaspoon freshly ground black pepper
1 teaspoon ground saffron dissolved in 4 tablespoons hot water
2 cups dried barberries (zereshk), cleaned, washed, and drained
2/3 cup clarified butter (ghee) or oil
4 tablespoons sugar
2 tablespoons plain yogurt
2 tablespoons toasted cumin seeds (optional)
2 tablespoons slivered almonds (optional)
2 tablespoons slivered pistachios (optional)
2 tablespoons slivered dried orange peels (optional)
Instructions
Chicken
Saute onions in 2 tablespoons of butter until translucent, add garlic until golden then add the pieces of chicken and cook for about 5 minutes on medium heat.  Once chicken changes color from pink to white on the outside, add 1 tablespoon of turmeric and 2 cups of water. Cook on medium-high heat with lid covered for 1 hour (or more depending on the size of your chicken).
Once ready, add 1 tablespoon of saffron and put aside.
Barberry
Clean the barberries by removing their stems and placing the berries in a colander. Place colander in a large container full of cold water and allow barberries to soak for 20 minutes. The sand will settle to the bottom. Take the colander out of the container and run cold water over the barberries; drain and set aside.
Sauté 1 sliced onion in 2 tablespoons butter, add barberries and cumin, and sauté for just 1 minute over low heat because barberries burn very easily. Add 4 tablespoons sugar, mix well, and set aside
Note: If you prefer a tangy flavor reduce the amount of sugar. If you prefer a sweeter dish, add more sugar. Adjust to taste. 
Saffron Flavored Steamed Rice
Bring 8 cups of water with 2 tablespoons salt to a boil in a large non-stick pot. Pour the washed and drained rice into the pot. Boil briskly for 6 to 10 minutes, gently stirring twice with a wooden spoon to loosen any grains that may have stuck to the bottom. Bite a few grains. If the rice feels soft, it is ready. Drain rice in a large, fine-mesh colander and rinse in 2 or 3 cups of cold water.
In a bowl, mix 3 spatulas of rice, 2 tablespoons yogurt, 3/4 cup butter or oil, 1/2 cup water, a few drops of dissolved saffron water, and the cumin seeds.
In the pot, spread the yogurt-rice mixture over the bottom of the pot and pack down. This will help to create a tender golden crust (tah dig) when rice is cooked.
Take one spatula full of drained rice at a time and gently place it on top of the yogurt and rice mixture, gradually shaping the rice into a pyramid. This shape leaves room for the rice to expand and enlarge. Poke one or two holes in the rice pyramid with the handle of a wooden spatula.
Cover and cook rice for 10 to 15 minutes over medium-high heat in order to form a golden crust.
Dissolve the remaining butter in 1 cup hot water and pour over the rice pyramid. Place a clean dish towel or 2 layers of paper towels over the pot and cover firmly with the lid to prevent steam from escaping. Cook for 50 minutes longer over medium-low heat.
Remove the pot from heat. Allow to cool on a damp surface for 5 minutes without uncovering it. This helps to free the crust from the bottom of the pot. There are two ways to serve the rice. The first is to hold the serving platter tightly over the uncovered pot and invert the two together unmolding the entire mount onto the platter. The rice will emerge as a golden crusted cake. Serve in wedges. The second way is to put 2 tablespoons of rice in a dish, mix with remaining saffron water, and set aside for garnish.
Then, gently taking 1 spatula full of rice at a time, place rice on a serving platter in alternating layers with the barberry mixture. Mound the rice in the shape of a cone. Arrange the chicken around the platter. Finally, decorate the top of the mound with the saffron-flavored rice, some of the barberry mixture, and almonds and pistachios. Places pieces of chicken around your serving dish making the rice the center of the display.
Detach the layer of crust from the bottom using a wooden spatula. Place into a small platter and serve on the side or arrange it around the rice. Enjoy!