During our short stay in Athens, we were invited to dine at the Galaxy Restaurant and Bar located on the top floor of the Hilton Athens. After 40 weeks of eating the local foods of Portugal, Spain, France, Italy and Greece we were in the mood for something that would remind us a bit of home. The Galaxy Restaurant was the perfect choice as it had both international cuisine mixed with a touch of Greek.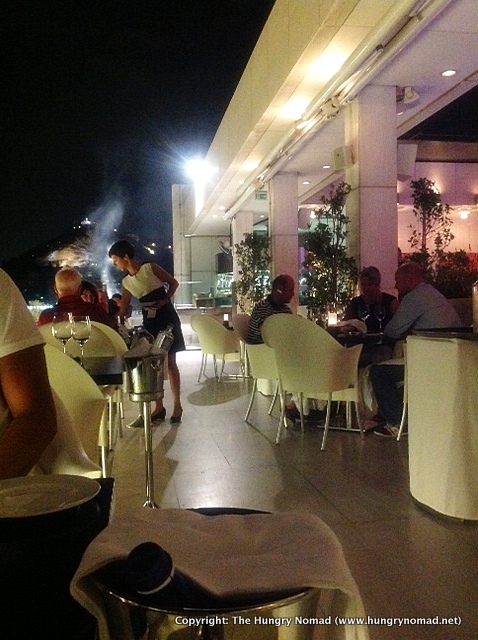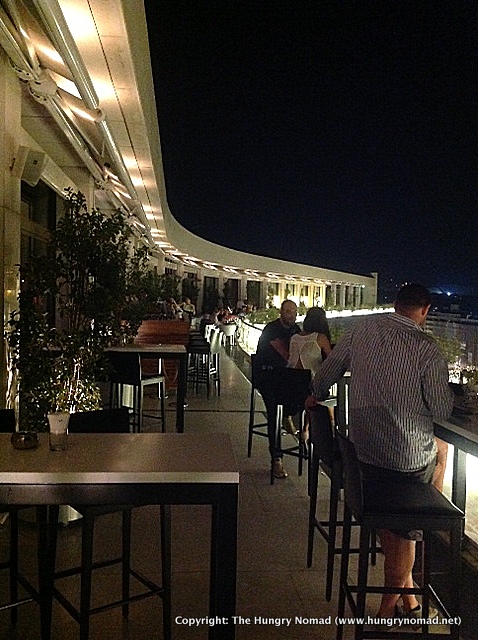 Our hostess was so courteous and knowledgeable about the menu and ingredients. She spoiled us from the moment we sat down until the last second when we wobbled our over-filled stomaches to the elevator.   We were seated in the outdoor patio overlooking the majestic Acropolis ruins. All this view under the Athenian stars sipping on Greek wine, listening to good music and watching a fashionable crowd could not be beat.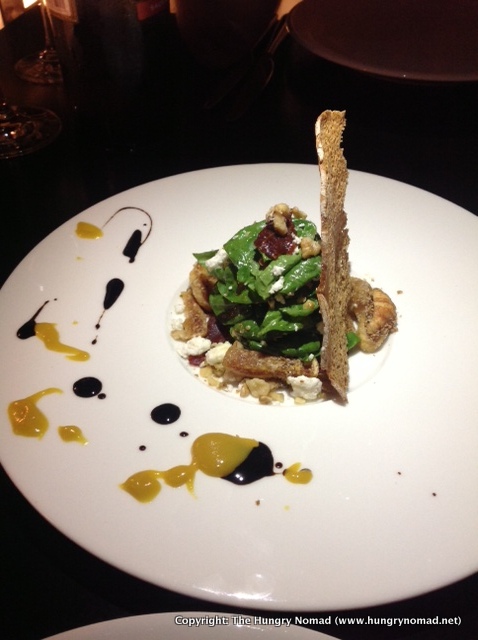 Our meal started with a salad tree resembling an enchanted forest of delicious treats. It  consisted of crisp baby spinach leaves with prosciutto chips, walnuts, dried figs, local kalathaki cheese drizzled with a nutmeg vinaigrette.  In the land of Greek salads, this salad was a nice change. After finishing the salad we were presented with a plate of the seared tuna starter set in a slate board.  The sesame crusted tuna was served with snow peas, caviar, pickled pearl onions, black and yellow cherries and a truffle vinaigrette. It was the most perfect serving of seared tuna. Both in taste and presentation.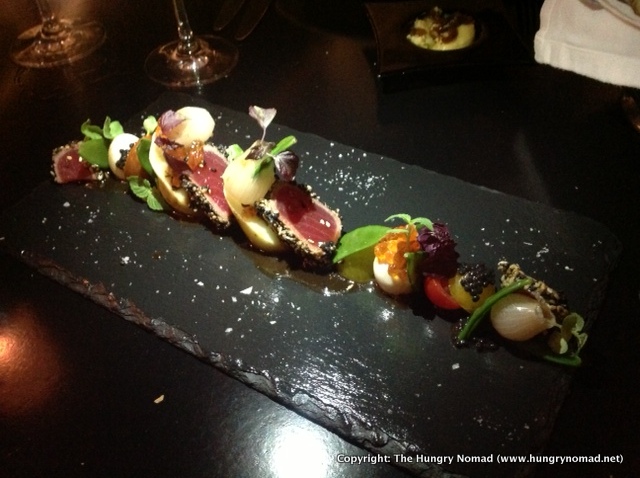 I thought we were done but it turns out that our meal was just getting started. Next we were served with another starter, the roasted fillet of grouper. It was artfully presented in a bed of squid ink couscous salad served with a vegetable pea puree and sun dried tomato olive oil. The combination of the couscous, its texture and colorful contrast with pieces of tender white grouper made for a visual and culinary treat.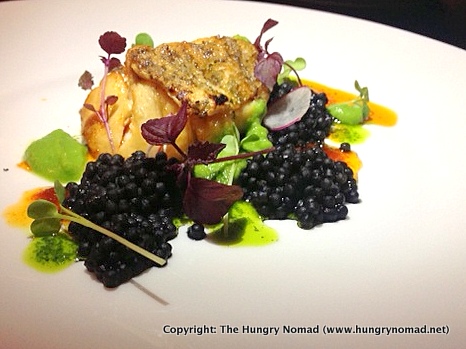 The one page sushi options was the biggest welcoming surprise. There is nothing I crave more than a good serving of sushi, especially on a trip, and the Hilton Athens satisfied this craving. We were presented with a colorful array of sushi rolls. Options ranged from the crispy salmon roll to the classic spicy tuna roll. Sashimi and Nigiri were also available.  The rolls were presented on a large slate board arranged beautifully with rose shaped salmon sashimi and wasabi cubes in the middle. It tasted quite authentic with the perfect portion of rice and fresh fish per roll. It was the perfect way to satisfy my cravings.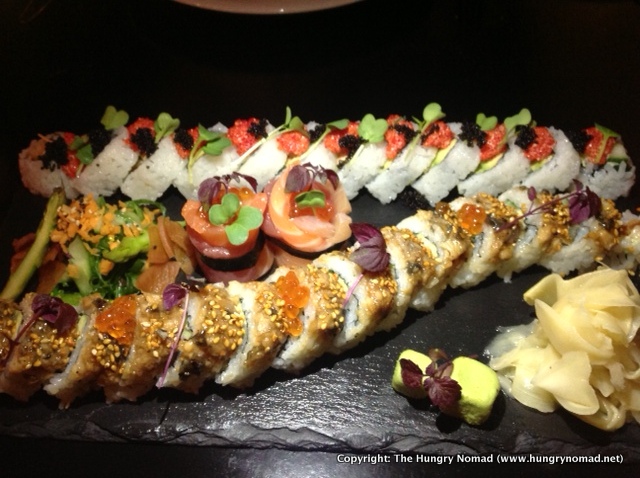 After finishing off the sushi plate we were too full for words. But our hosts insisted on serving us more of their wonderful culinary creations.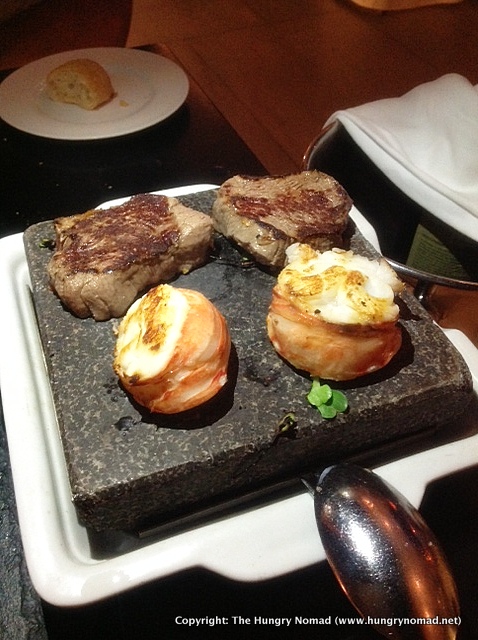 The Galaxy Roof hot stone is something that should not be missed. There are two options: the sea food platter or the surf and turf. We opted for the surf and turf which consisted of pieces of top quality beef tenderloin and lobster tail. The meat was served raw in a dish and presented alongside a sizzling hot stone. Our server placed the meat on the stone to cook to perfection. There were side order options to go along with the hot stone meal of which we had an eggplant melange and a bowl of local greens only grown in the hills and mountains of Greece.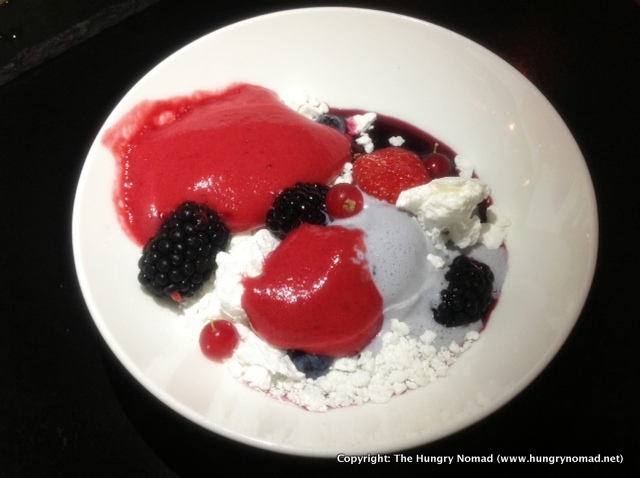 For dessert we had a little bit of everything including the frozen mojito cream with crunchy mint jelly, lime syrup and lemon sorbet. A tart dish perfect for those who love a tangy dessert; the milk chocolate mousse  bar with vanilla ice cream and berry coulis, great for us chocolate and berry lovers; the semifreddo amaretto with almond crocant and orange sauce; and a blueberry soup with lavender ice cream, meringues and strawberry froth. A colorful treat blasting with distinct flavors.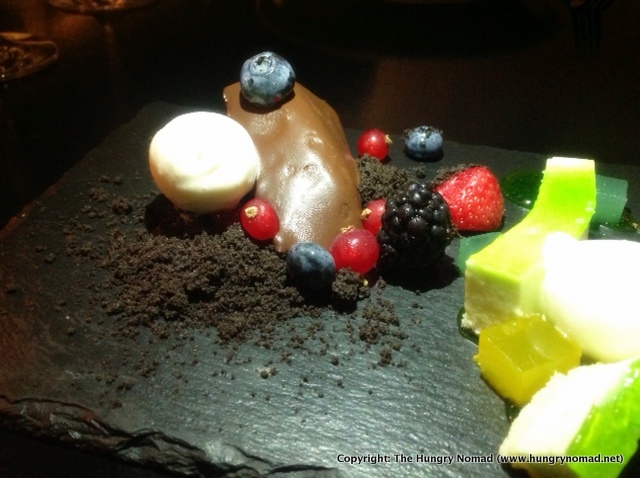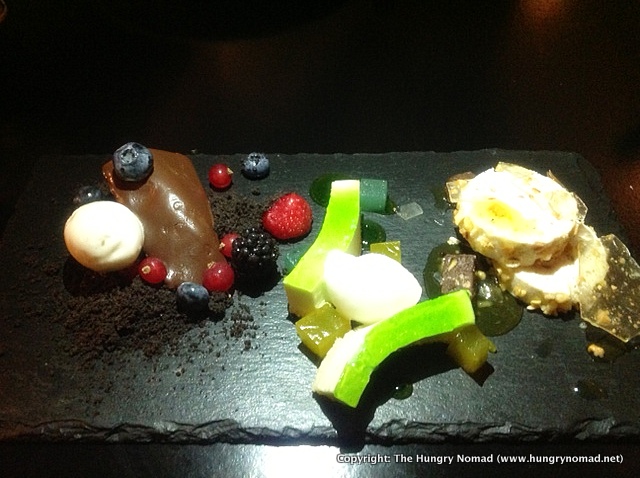 The meal at Galaxy restaurant far exceeded our highest expectations. The food was divine, the view was breathtaking, and the service was excellent. If you want a great meal served alongside a great view with a hip ambiance then don't miss the Galaxy on your next trip.