I love just about every type of food out there and one great thing about Philly is that it provides people with a lot of options. In some parts of the city you're within walking distance to Moroccan, Greek, and Lebanese cuisine. I'm still on the search for a great Iranian restaurant, but I have found several other truly nice ethnic restaurants here. These places are restaurants that don't Americanize their food and offer up more than just a great meal. If you're looking for a more authentic food experience outside of your comfort zone any of the places on this list are great ones to check out.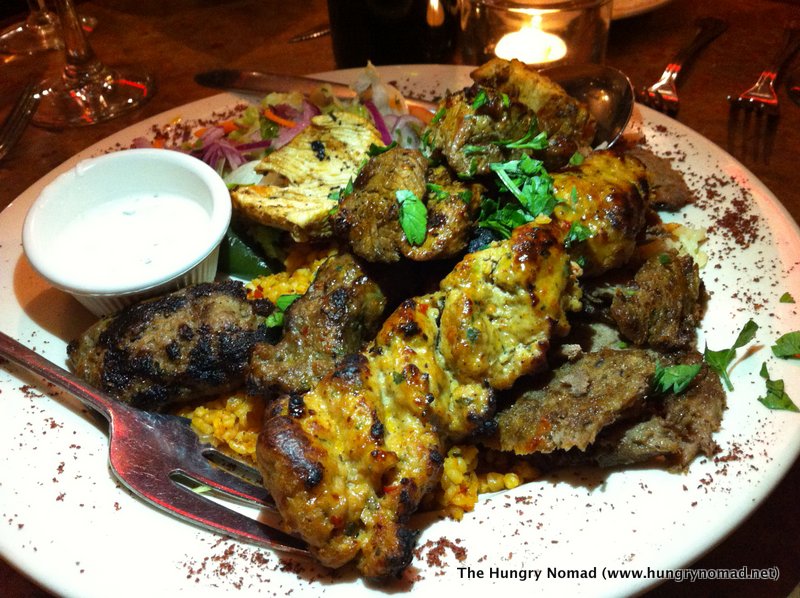 I first heard about Leziz Turkish Cuisine from Tala's review of the restaurant a few months ago and decided to try it with some friends one night. This place was ideal considering most of us are in college and want to eat at restaurants that are affordable yet still good. Since we were starving that night, we split some appetizers. We ordered the Babaganush and the Hummus. Both of the light spreads had great flavor to them, and I really loved the babaganush since I adore just about any dish that includes eggplant in it.
After our appetizers, we decided to order a few things for dinner and split them as well. The dishes we ended up getting included the Lamb Shish Kebab and the Skewer Chicken Kebab with Yogurt. I enjoyed the lamb dish and found that it was juicy and succulent. I love lamb, but for people who often shy away from the meat because they think it has a gamey taste to it, this may not be the dish for them. However, a good alternative is the chicken kebab skewer that we also tried that night. It offers up all the delicious flavors that kebab normally has, but is done with a meat that has a milder flavor to it. Both dishes were filling and all of the meat we had that night was very tender, which is always the most important thing for me with any meat dish I get. I hope to try this restaurant out again, especially since we got to end our meal with a nice, relaxing hookah, something I always enjoy!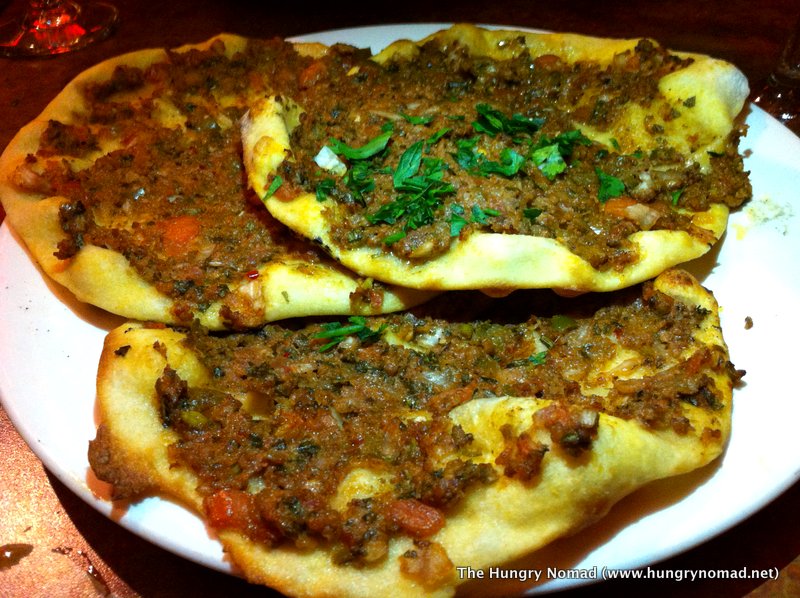 2. Uzbekistan
Although this cozy BYOB restaurant isn't right in the center of Philadelphia, the food is worth the drive you have to make. With a pretty extensive menu, this Russian/Uzbek cuisine is flavorful and will please many palates. I like to think of this place as a great winter restaurant because they have food that will warm you up on a chilly night. One dish that does this  is the Chuchvara which is a soup that has tender dumplings in it. A lot of the menu is dedicated to various dumplings, so even if you decide to skip this soup, you should try at least one dish that has this specialty in it. After a soup or a salad, one good main course to get is the Beef Stroganoff. This meal consists of sliced beef, mushrooms, and sour cream, and is packed with flavor while also having a homey feel to it. This dish comes with potatoes and salad, so after a meal at this place you'll feel pretty full. If you're looking to try something new, but also want food that is mild, Uzbekistan is a great restaurant to go to on a cold evening out.
3. Marrakesh
I adore Marrakesh because your entire experience at the restaurant is always fantastic and fun. This is a restaurant you'll want to come to hungry. You start your experience by knocking on an unassuming door where you're greeted and led to your seats. You'll walk past some oriental rugs hanging on the wall before you sit down and really begin the Marrakesh experience. Before you eat, you'll wash off your hands because this restaurant strives to really provide an authentic experience, so all the food is either picked up with your hands or with slices of warm pita bread.
While you don't have tons of options on what kind of food you'll get since it is a prix fixe-style restaurant, you will get a gluttonous portion of food. My absolute favorite thing here is the Spicy Chicken in Cumin Sauce. I rarely choose chicken as a main course because I think there are so many more exciting meats out there, but this chicken is a must have. It is incredibly tender and comes served falling off of the bone. This chicken makes my mouth water the second I smell it and practically melts in my mouth every time I eat it. The great thing about it is that it has a nice amount of spice to it without being too spicy. After you gorge yourself on the chicken, Lamb with Almonds and Honey, and Couscous Grand Atlas, you'll be provided dessert. Here, dessert consists of Fruit, Baklava, and Hot Mint Tea. I have never been a fan of baklava because honeyed desserts don't really do anything for me, but my friends love the baklava here, so I'm sure it's great for anyone who likes this Middle Eastern treat. I really enjoy the fruit and hot mint tea though because I always need something sweet to end a meal, and these two things fulfill that desire without making me feel even more stuffed.
Marrakesh is a great restaurant for a group of friends or for a date, although you may want to skip it as a first date spot since eating with your hands can get a bit awkward. It's especially nice to come by on the weekends when they have belly dancers!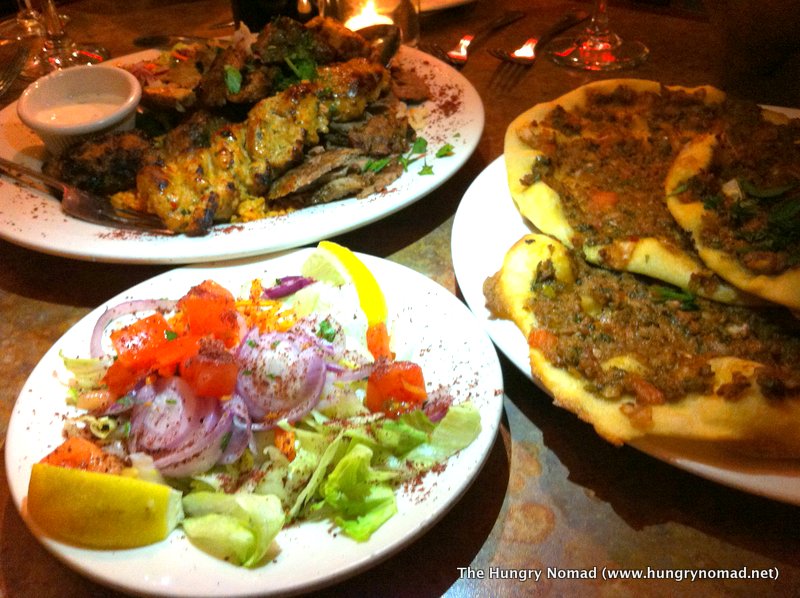 This restaurant is another place where you're getting a quality meal for a low cost. I had my first experience with Ethiopian food here and I thought it was fantastic! I probably pronounced just about everything I ordered the wrong way, but my embarrassment was gone with the first bite of food. My favorite dish here is the Gored Gored which is a plate that comes with cubes of beef in berbere sauce and mixed in butter. If you really want to appreciate the beef, it should be ordered rare or medium rare, and the Ethiopian spices only enhance the taste. The berbere sauce is undoubtedly hot since it has sun-dried jalapenos in it, but if you can take the heat, this shouldn't be skipped over. This place is also great for vegetarians since so much of the Ethiopian diet consists of beans and lentils. The one vegetarian dish that I tried here was the Ye'misir Alicha. This thick stew is filling and comes with green lentils, onions, and ginger. If you've never tried Ethiopian food before, but want to experience it, Abyssinia Ethiopian is the place to try.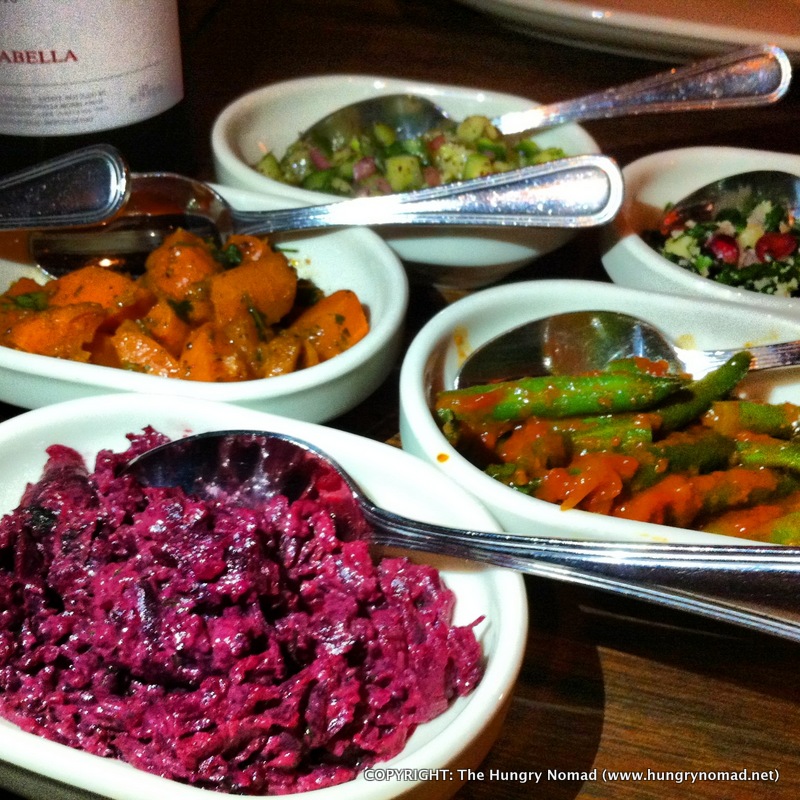 5. Zahav 
Anthony Bourdain made the right choice when he went to Zahav during his trip to Philly last year. This restaurant deserves all the praise it receives, and while I've only had the joy of eating here once, I fully plan on eating at this restaurant again. My favorite thing to start with here is the Asparagus Salad. This salad comes with a tuna confit, egg yolk, and black olives, and is satisfying on so many flavor levels. I also adore the Yemenite Soup that includes brisket, onions, and chickpeas. The soup is so good that I honestly can say that I wouldn't mind bathing in it. If neither of these dishes sound like your cup of tea, there are enough other options for starters for every kind of palate.
After a few of their delicious small plates, I hardly had room for a main course, but I knew I'd regret skipping out on a main meal at a restaurant like Zahav, so I tried the Duck Kebab. Duck is by far my favorite type of meat, and these kebabs only made me love it more. The meat was juicy, and the pistachios and saffron that accompanied the duck helped to enhance the flavor of the bird. Duck is a great type of meat for all kinds of people because it is more exciting than chicken, but doesn't have that overwhelmingly gamey taste that venison or lamb has for some people. Out of all of the restaurants on this list, Zahav is the one I hope to go back to the soonest because I have only been able to dine here once, so there are tons of things on the menu I still want to try.

While this list is compiled of some of my favorite restaurants in Philly that are a bit different from the usual burger joints and bars, I still have dozens of ethnic restaurants to try out. I haven't been to any Lebanese or Indian places, and as I stated above, I'm still on the search for a fantastic Iranian restaurant, but out of the restaurants I've tried, these are some of the best. I have always loved eating out, but even more than that, I have always loved being introduced to new cuisine, so these places all hold a special place in my foodie heart for providing me with some unique and unforgettable meals.