People who know me are well aware of the fact that if I had to choose one thing to eat for the rest of my life it would be sushi. When I was recently in London, I ate sushi three days in a row because I hadn't had any since I had left for Spain in January. While I loved that sushi was so popular in London, I missed some of my favorite sushi places in Philadelphia. Since I have tried so many places out, I thought I'd share my list of the top places to get sushi in the city.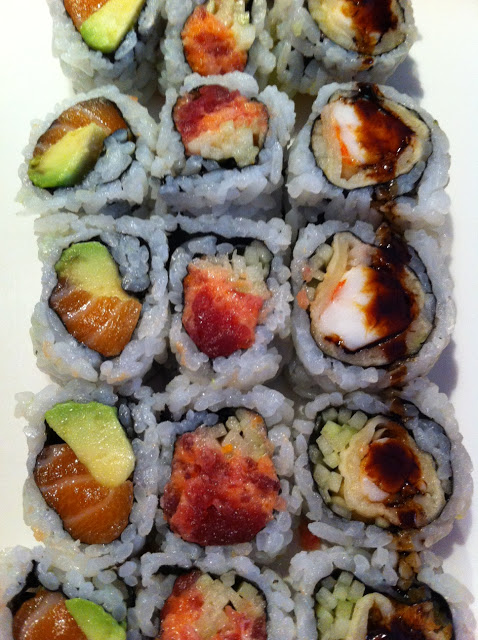 1. Fat Salmon
Whenever I go out for sushi, at least one of my rolls has to have some salmon in it, and I can't imagine a better place to get salmon than a restaurant that is named after the fish. My friends and I tried this restaurant out this past winter, and we all loved it. I ordered the Spicy Tuna Crunch Roll, the Philly Roll, and a serving of the Salmon Sashimi. Philly rolls are one of my favorites; I loved the roll here because it came with the traditional smoked salmon and cream cheese, but also had asparagus in it which added a new element to it.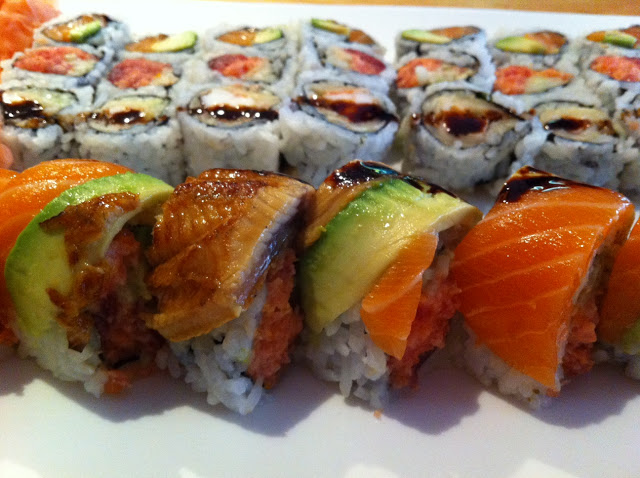 The interior is like many other sushi places in the city: small with a modern look to it. Since it is so small I would suggest making reservations or coming early. Either way, I think this restaurant serves up some really good sushi at a reasonable price and I imagine I will be returning sometime soon.
I have been to Vic Sushi Bar once before and I know that Tala has also given this place a positive review. If you're in the Rittenhouse area, this is the place to go. I especially like this restaurant because the menu consists of mainly sushi and sashimi, whereas many other restaurants try to cater to people who are not fans of sushi. The fish is really fresh and the sushi is fun and inventive.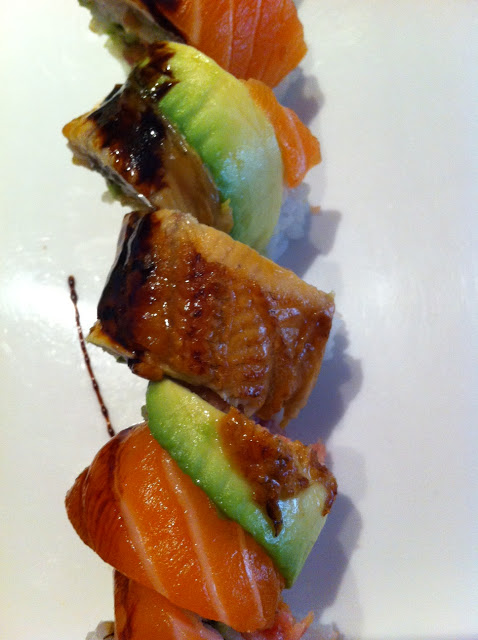 When I went, I ordered the Sansom Roll, which I thought was appropriate seeing as my friends and I were right on Sansom street. This roll consisted of shrimp tempura, crab stick, and avocado, and was topped with a number of things, including salmon and eel sauce. I would definitely order it again, but since there are so many neat rolls on the menu, it will probably be awhile before I manage to do so.
3. Pod 
Pod, a restaurant opened by Stephen Starr, is certainly one of the larger sushi restaurants in Philly. The modern atmosphere draws in the young, hip crowds that like to hang out in the University City area. This modern atmosphere is reinforced by martinis with names like Blue and Orange. However, the menu is extensive and there is much more than just sushi on it. When I went, I got the Rainbow Roll and the Calamari Salad.
The Rainbow Roll was very good and I loved the Calamari Salad with its lemongrass dressing. Oftentimes, I get two rolls when I go out for sushi, but I feel so full afterwards, so the light calamari salad was a nice way to help fill me up without making me feel stuffed. It may not be the first sushi place that I think of when I want to get some, especially since it's on the pricier end of sushi in Philly, but it is a nice place to check out if you're in the area.
4. Umai Umai
This restaurant is another winner in the Philadelphia area. While it is a pricier restaurant like Pod, this place is BYOB and has some amazing sushi. Located in the Fairmount area, this tiny restaurant has a strong following of customers. I was brought here by a friend, and the two rolls that I heard consistently mentioned by people who had eaten here were the Traffic Light Roll and the Godzilla Roll.  I only ordered the latter of the two when I went, but it was one of the best rolls I've ever had. I've never come across another roll like it as the Godzilla Roll included shrimp tempura, eel, avocado, honey and, most shockingly, strawberry. This has been one of the most creative rolls I've ever had, and I can't wait to go back and try the Traffic Light Roll!
Out of the sushi restaurants I have tried in Philadelphia, these four places are the best. Sushi is one of my favorite foods, and I'm always looking to try out new places and new rolls. I'm sure there are dozens of others out there waiting to be discovered, and I can't wait to try them!