Marc Vetri's Amis is on the top of every Italian restaurant list in the city (and arguably the country) and of course was on my list of places to try during our year in Philadelphia. My visit came in a timely fashion right before the James Beard Foundation released its nominations for this year's culinary awards. Marc Vetri was just nominated for Outstanding Chef and Brad Spence was nominated for Best Chef, Mid-Atlantic for his efforts at Amis. After dining at Amis I can't say I am surprised for their nominations. Simply put- dining at Amis was one of the most amazing Italian food experiences I've had (in and out of Italy).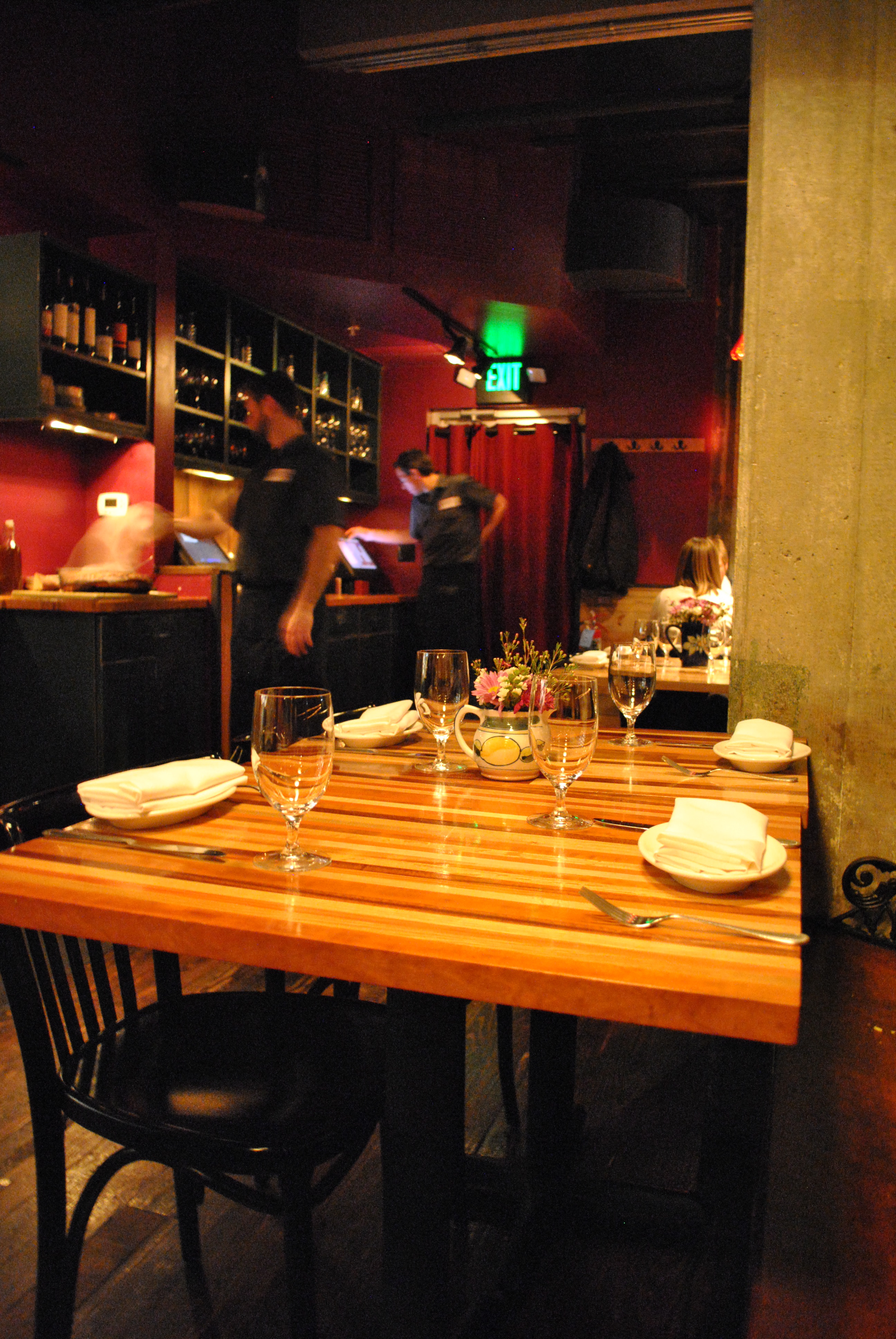 If you are looking for large, red sauce-drowned portions of cheap Italian including the likes of eggplant parmesan and spaghetti and meatballs do yourself a favor and skip Amis. But if you are looking for a sophisticated Roman Italian food experience that one would expect only at a trattoria in Italy, then do yourself a favor and make yourself a reservation at Amis.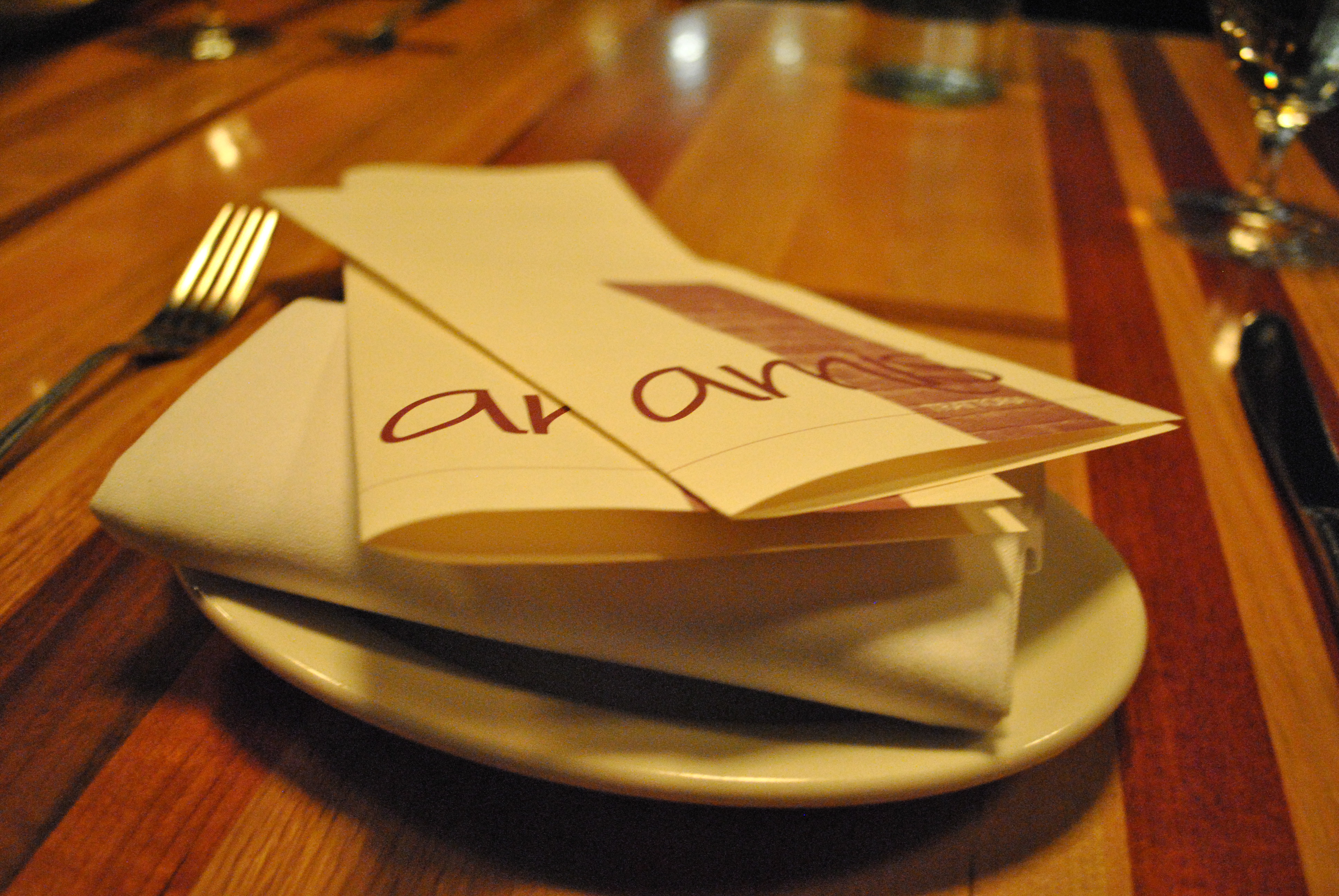 I was introduced to the fine italian cuisine of Marc Vetri after visiting Osteria very early in our time in Philly. Of course, Osteria blew us away and I had no doubt that Amis would too.  I had studied the menu prior to our visit like the food geek that I am and knew exactly what I wanted to try (see menu).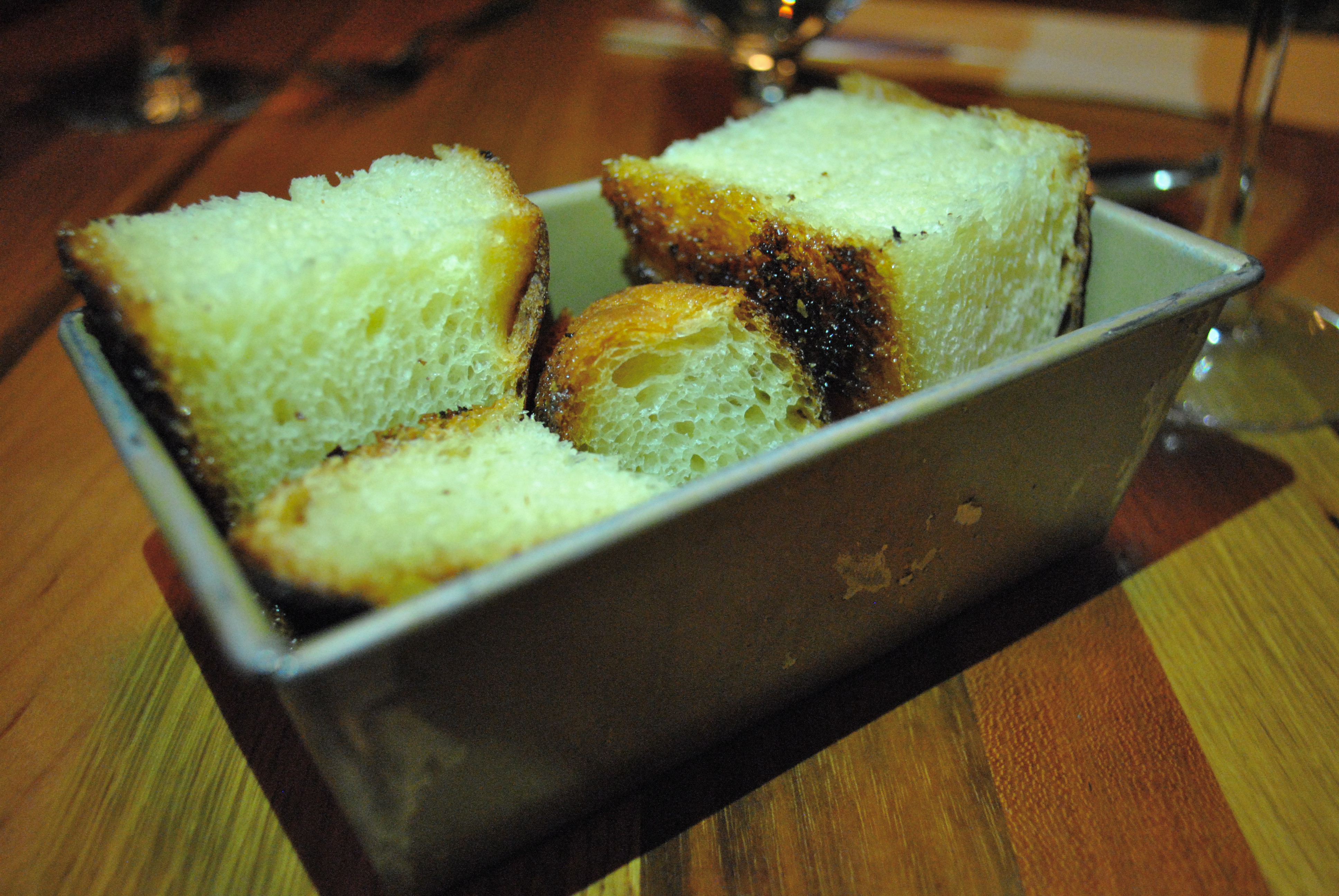 Antipasti- 
The night started off with bountiful glasses of red wine and a basket of fresh baked bread and cheese. As the cheesemonger that I am- I first ordered the baked pecorino.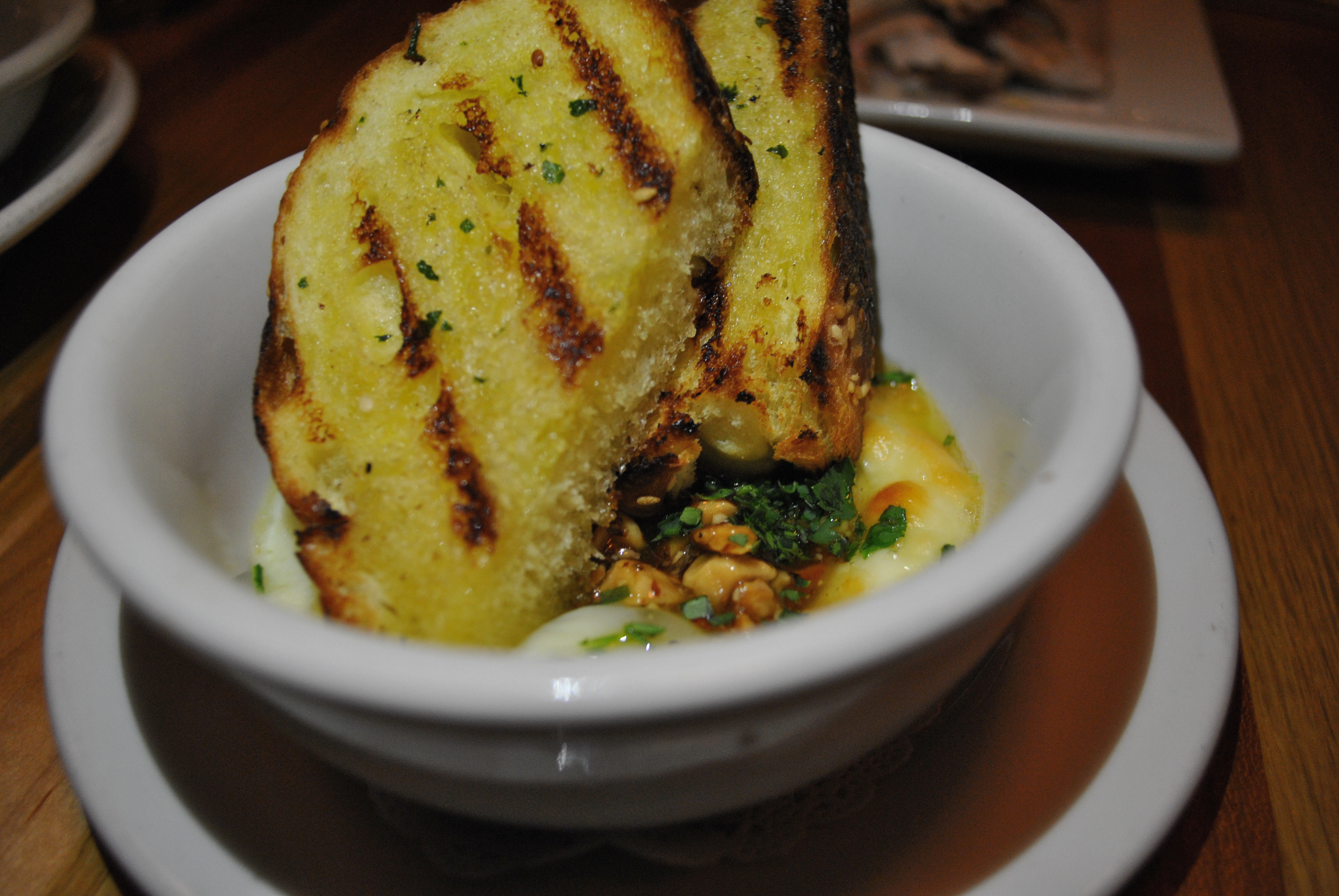 The baked pecorino ($10) was, well…like the name states- baked.   Drizzled with almond honey with two slices of grilled bread. The salty flavor of the pecorino cheese, the sweet honey and crunchy almond made for a perfect dish. I could have had more of that all night and I would have left satisfied. But there was more… much more.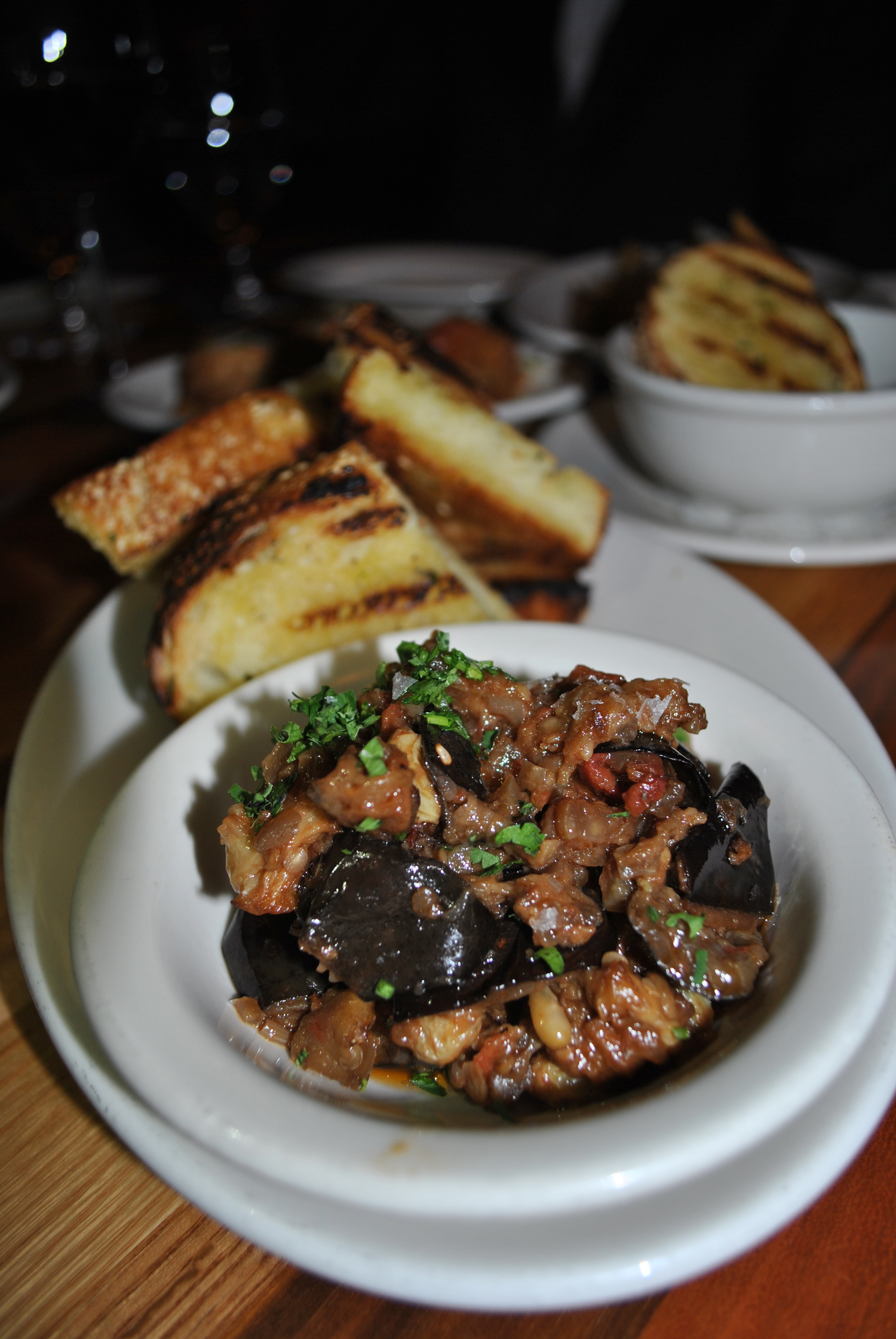 The eggplant caponata ($8) was served inside of an eggplant. Chopped and cooked pieces of gooey eggplant, tomatoes, olive oil and more of that delicious bread.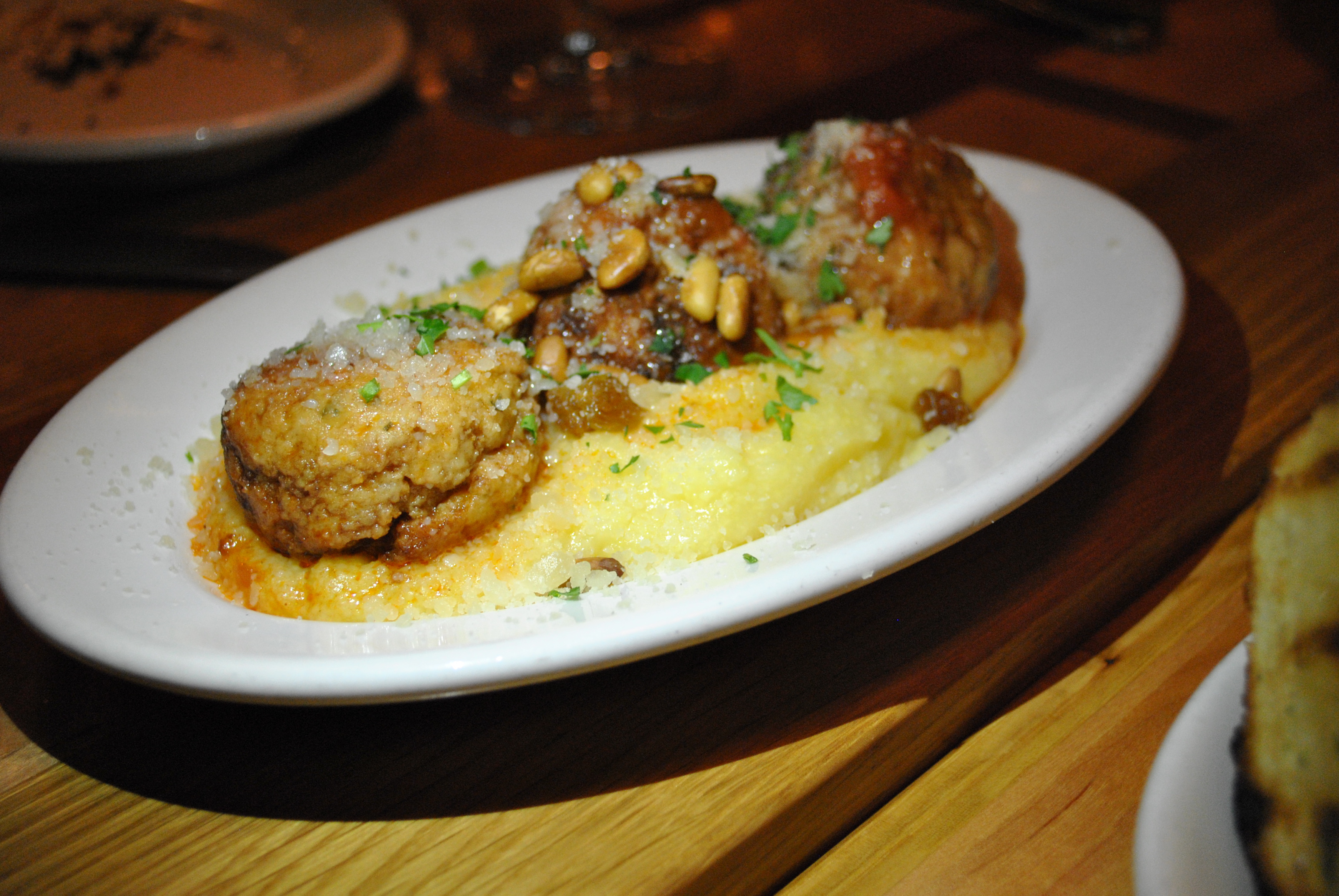 The swordfish meatballs ($10) ( a first for me) is another popular item on the menu. Three pieces of fish balls served over creamy polenta and crunchy pine nuts. It was my least favorite dish of the evening (only because there were so many other tasty treats).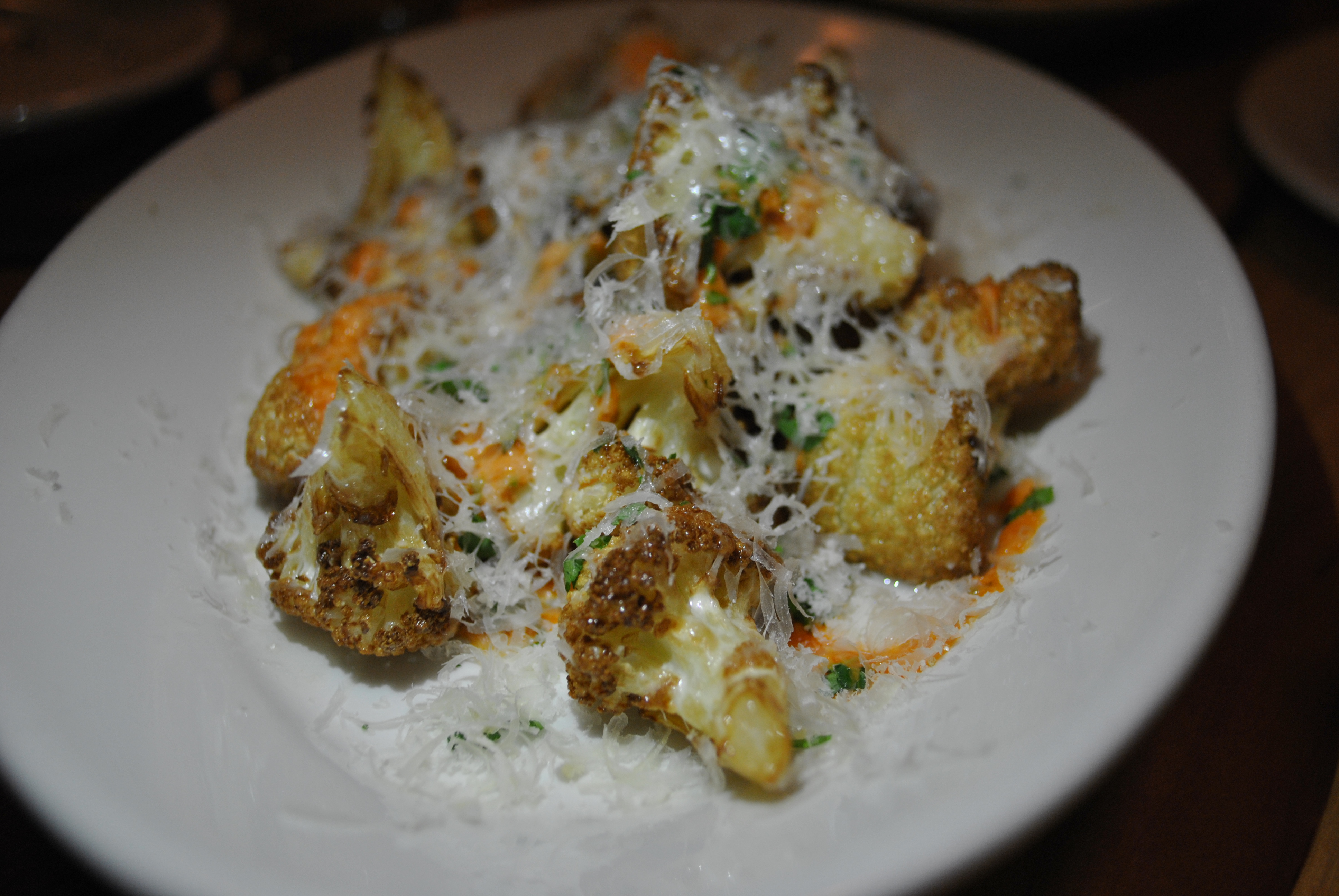 The fried cauliflower with pecorino and salsa rossa ($9) was a beautiful colorful serving of meaty cauliflower, fried and sprinkled generously with pecorino cheese and salsa rossa. I've been seeing a lot of cauliflower on menus these days and I have to say that it makes me happy. It's such a beautiful vegetable and if cooked right can be absolutely delicious.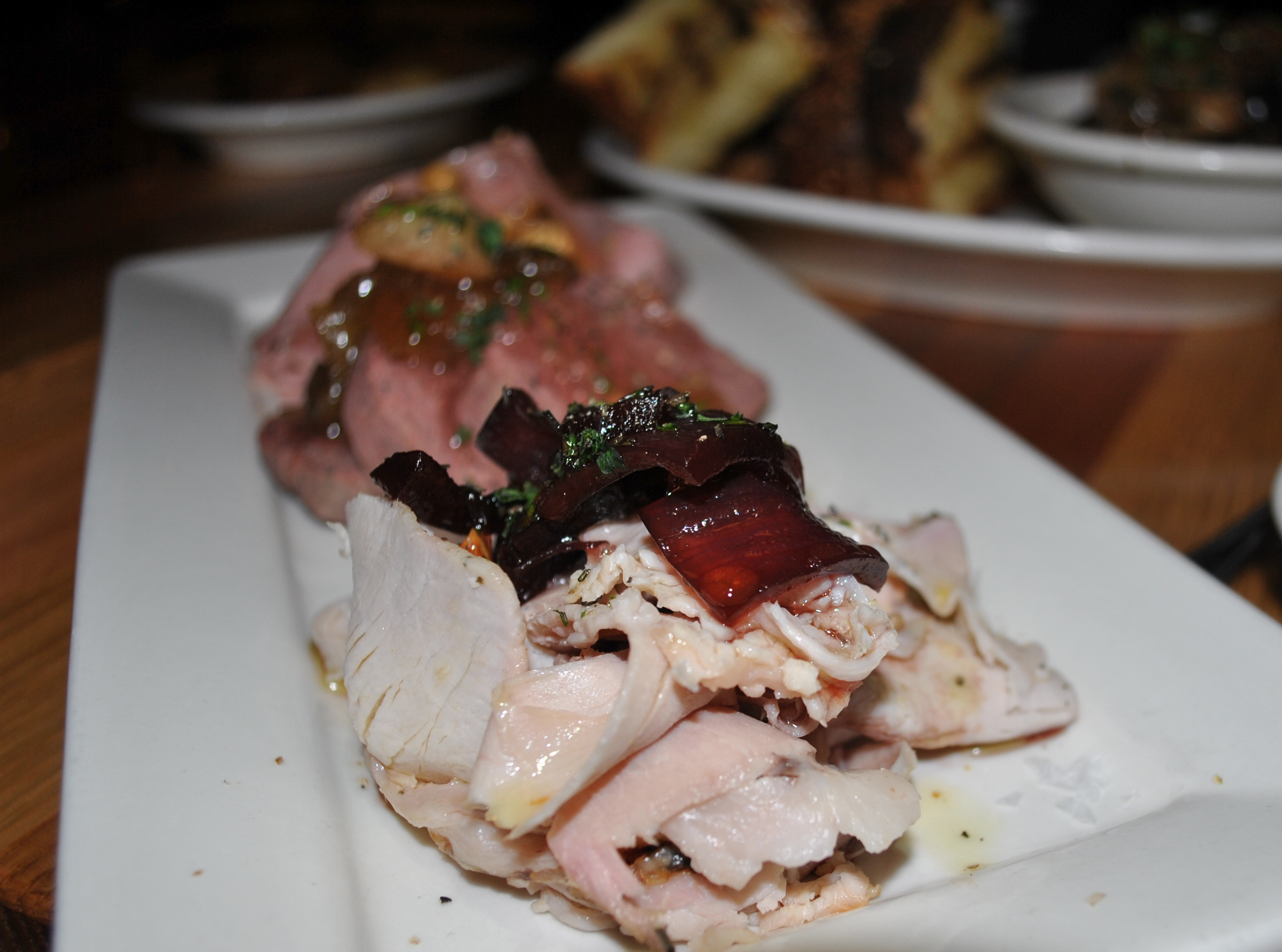 The charcuterie platter consisted of three different meats along with complimenting spreads. The pate and mortadella were my favorites.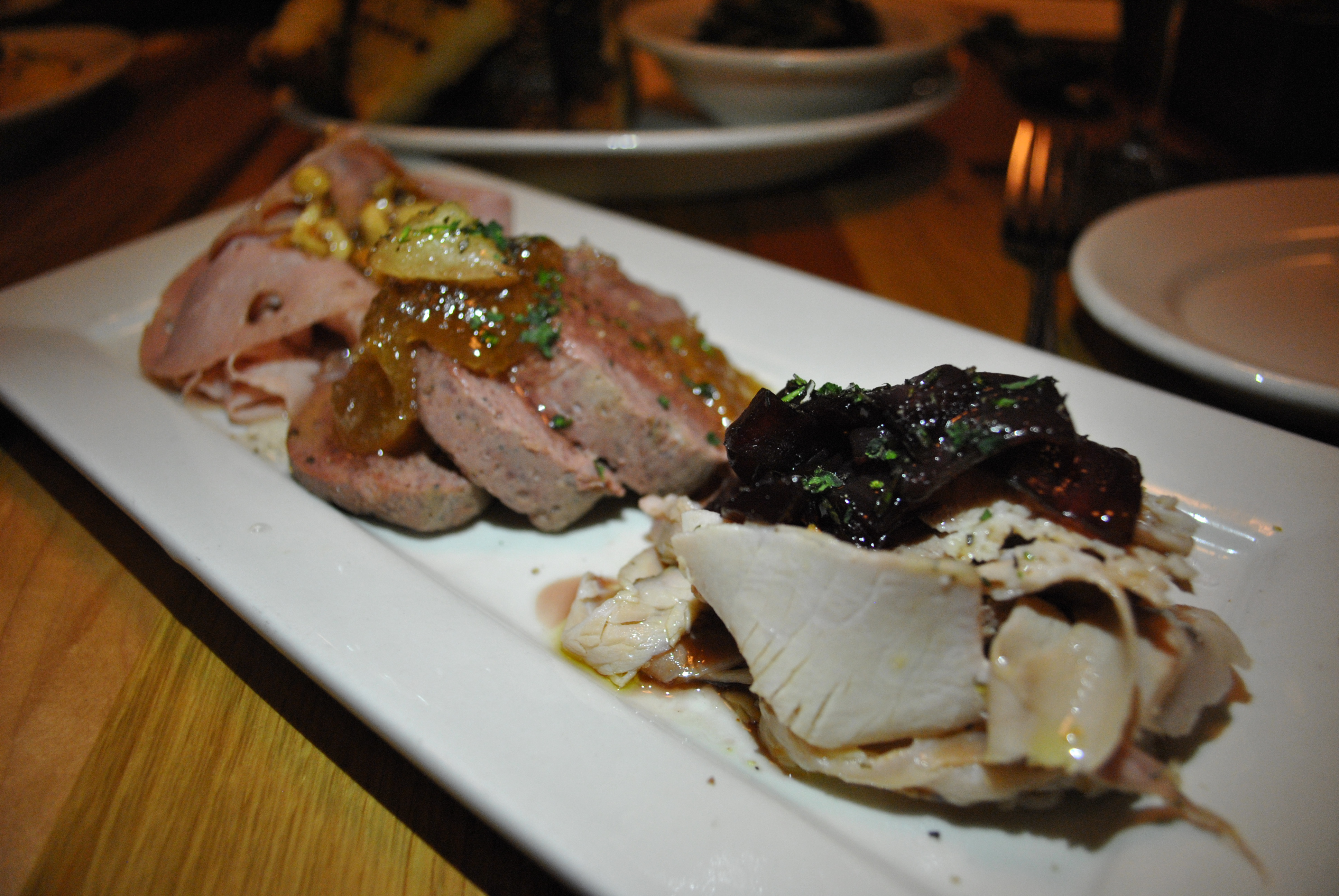 Pastas:
I was quite full by this point but could not resist trying some of the handmade pasta dishes offered at Amis. First off was the Paccheri with swordfish and eggplant fries ($18). What an amazing combination of flavors and textures. I rarely eat fish with pasta but the swordfish was so meaty and full of flavor. And there's nothing I enjoy more than eggplant in any shape or form. The eggplant fries were such a wonderful additional to the pasta. Overall, I loved this creative pasta dish.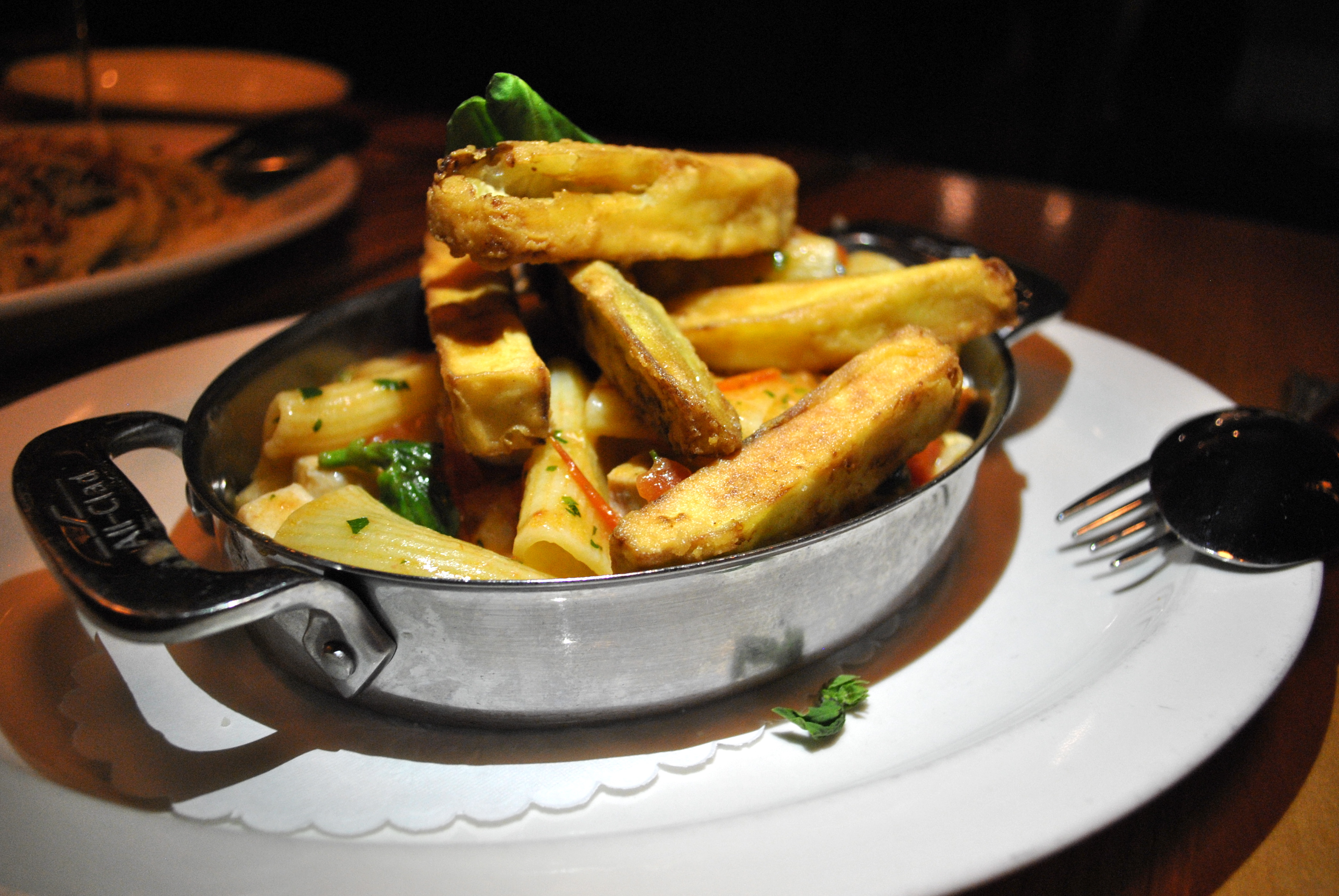 We also ordered the pasta special for the evening which was a bucatini pasta with almond pesto and jalapenos peppers. I've never tasted something quite like it. I'm still dreaming of this dish. The bucatini was cooked to perfection in a creamy sauce with the added crunchy texture of the almonds and a spicy kick from the jalapenos. Simply amazing.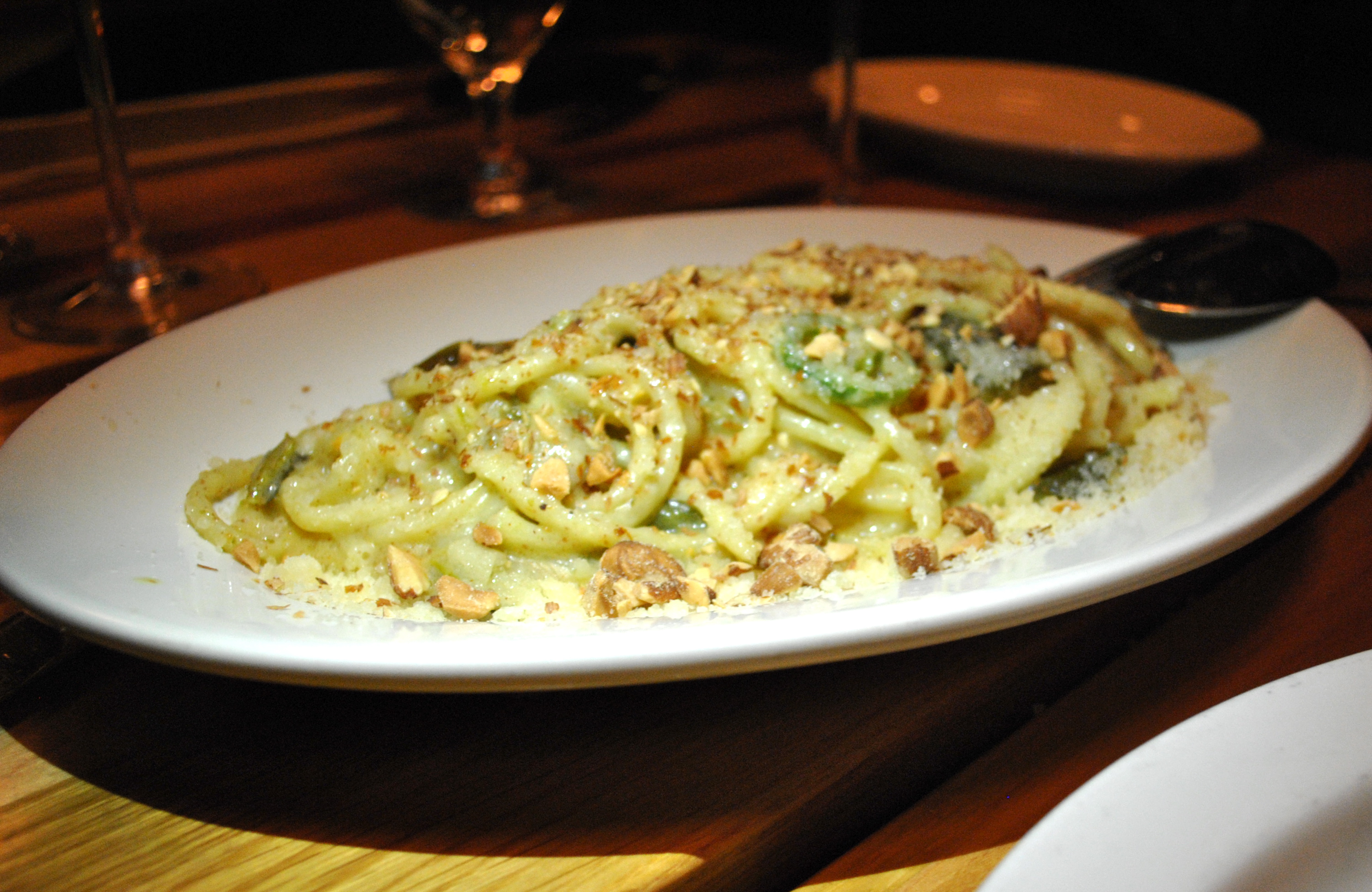 Dessert:
I know what you are thinking. This girl can eat! And yes I can because to me no meal is complete without a good dessert. And boy did Amis deliver in his category once again. I'm still dreaming of the rice pudding and the hazelnut chocolate cake special.
The "tartufo al bacio"  a round chocolate and hazelnut semifreddo with amarena cherries ($10) was perfection.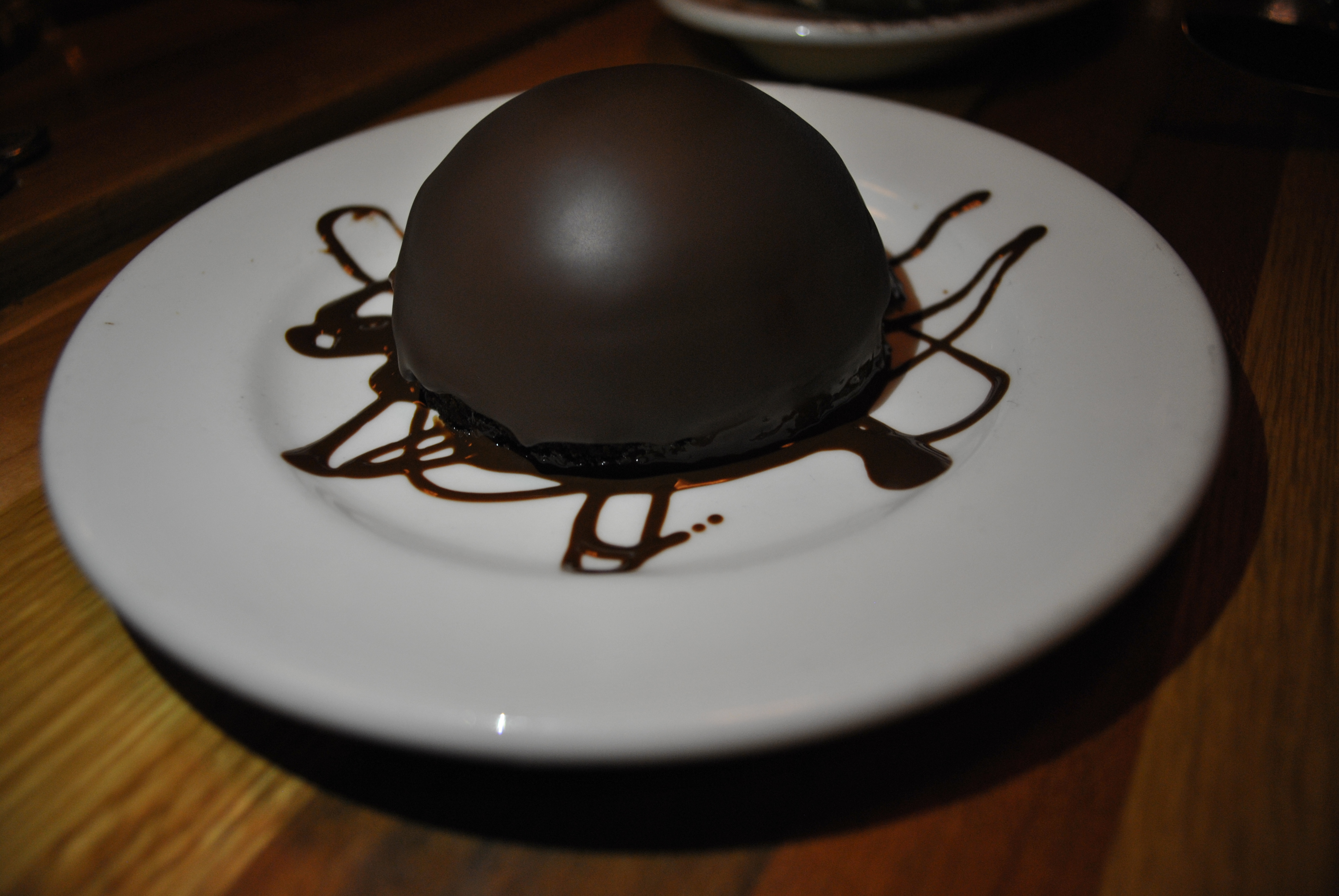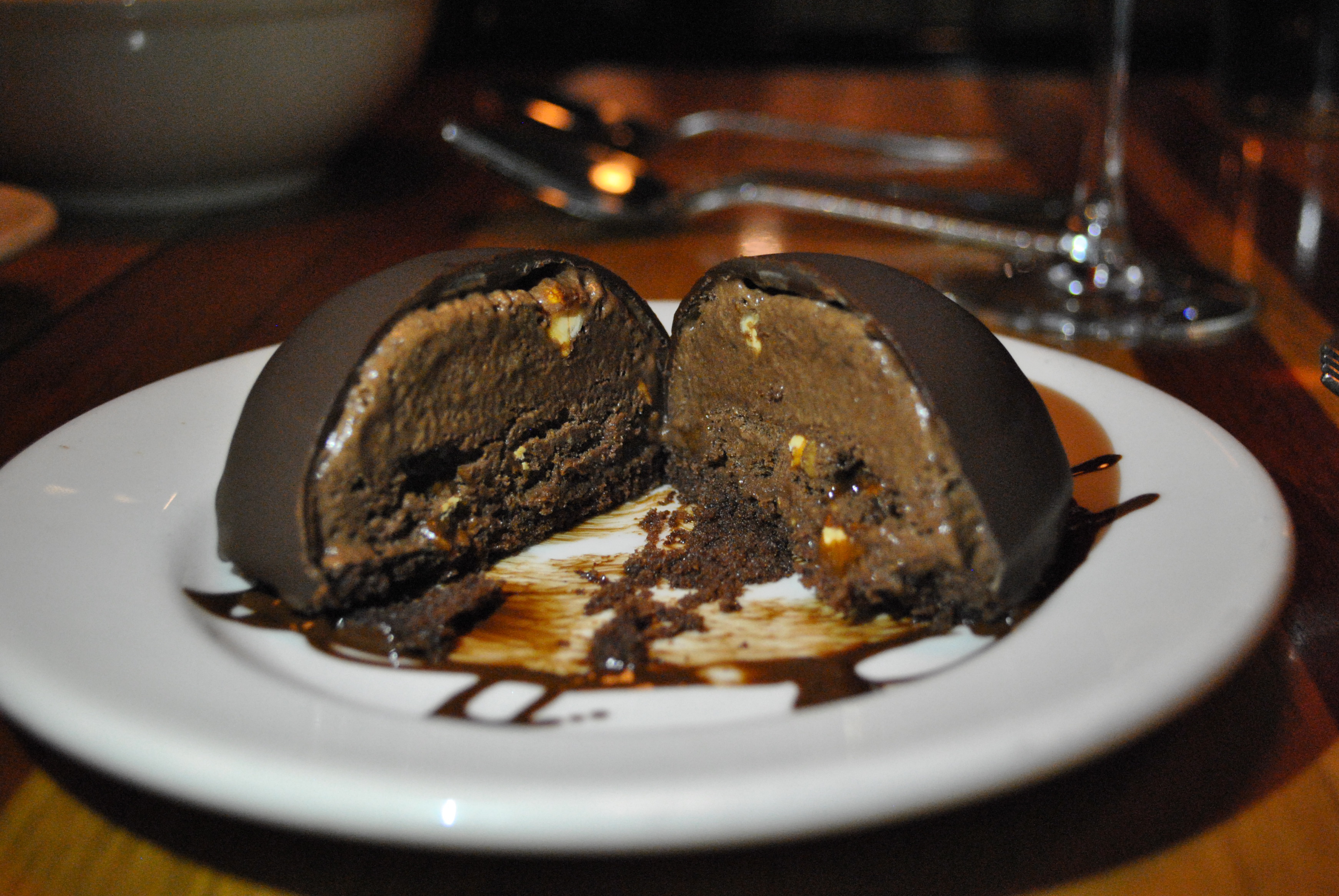 The Tiramisu was perfection! Exactly what a tiramisu should be. Creamy yet light layers of mascarpone cheese, rum and espresso soaked lady fingers and bittersweet chocolate powder for taste. If you want to try the best tiramisu in town you should definitely try one at Amis.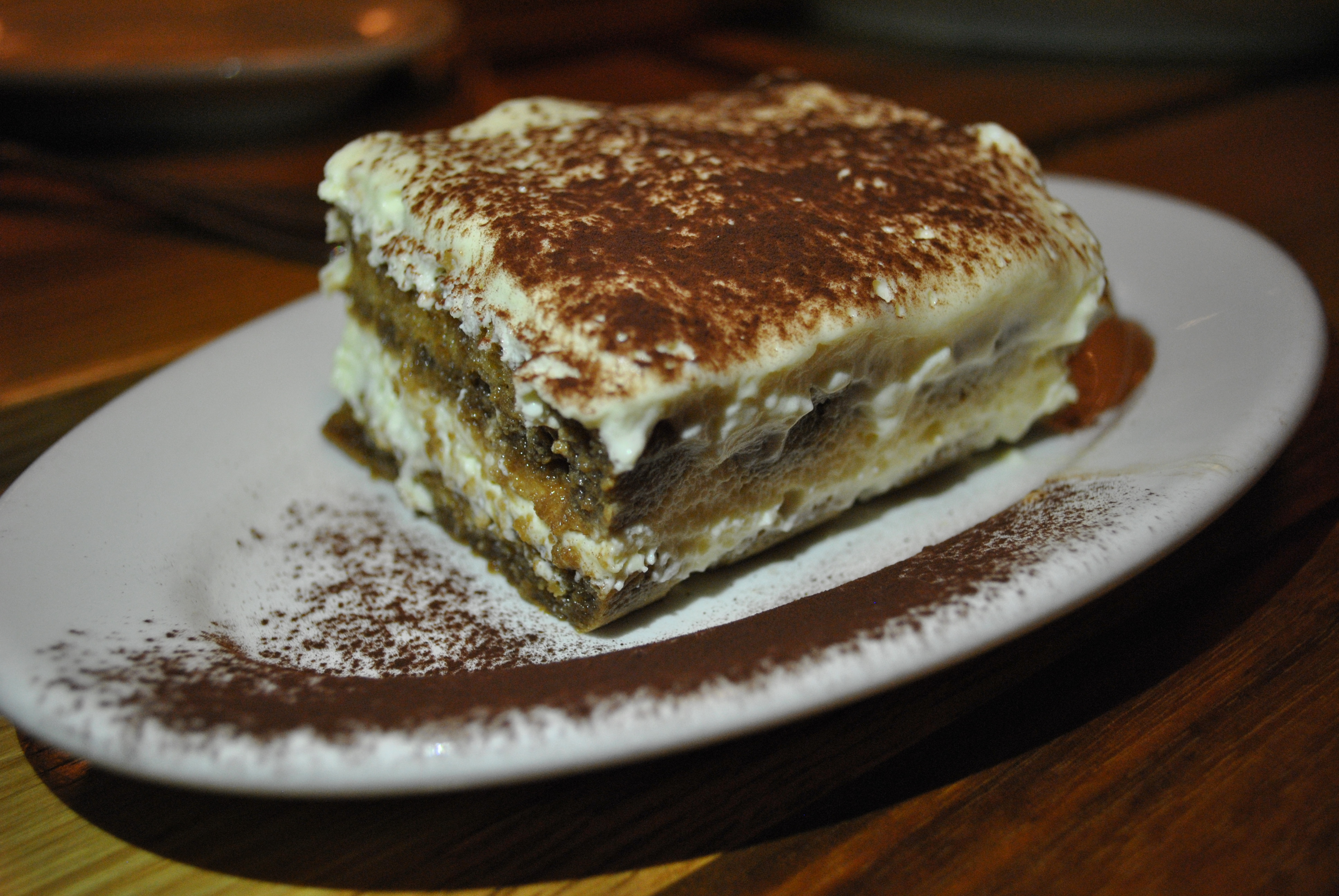 What really won me over was mom's rice pudding ($8) and the hazelnut chocolate cake special. The rice pudding took me back to my own mom's rice pudding she used to make when we were young. It was absolutely delicious. Milky and creamy topped with pistachios and amareno cherries. I highly highly highly recommend it.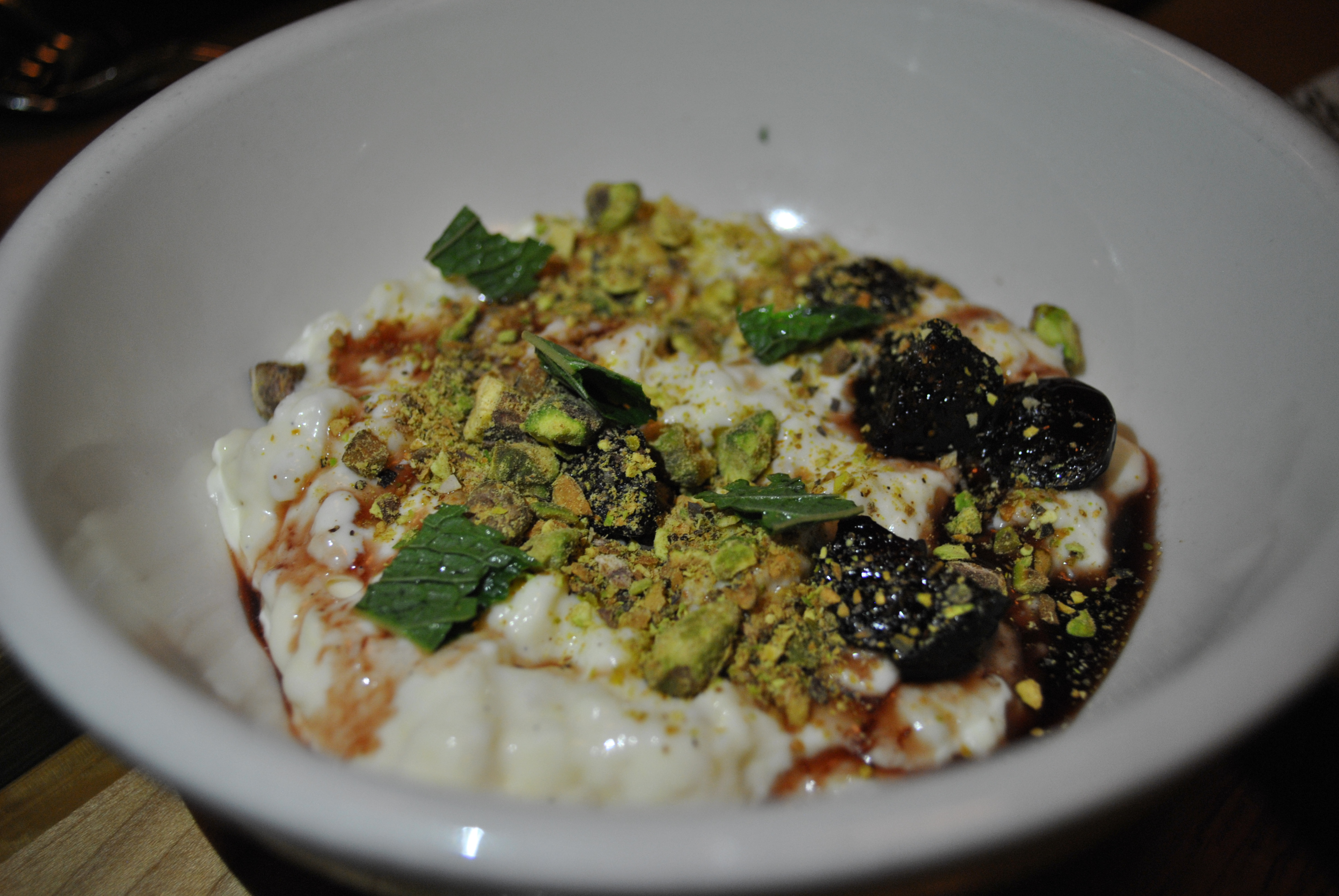 I was a kid in a candy store. Every single dessert plate was fantastic and absolutely the best dessert I've yet tasted in any restaurant (no exaggeration). The special for the evening was a hazelnut chocolate cake which let's just say I singlehandedly polished clean. No words or photos will do justice to just how amazing this was.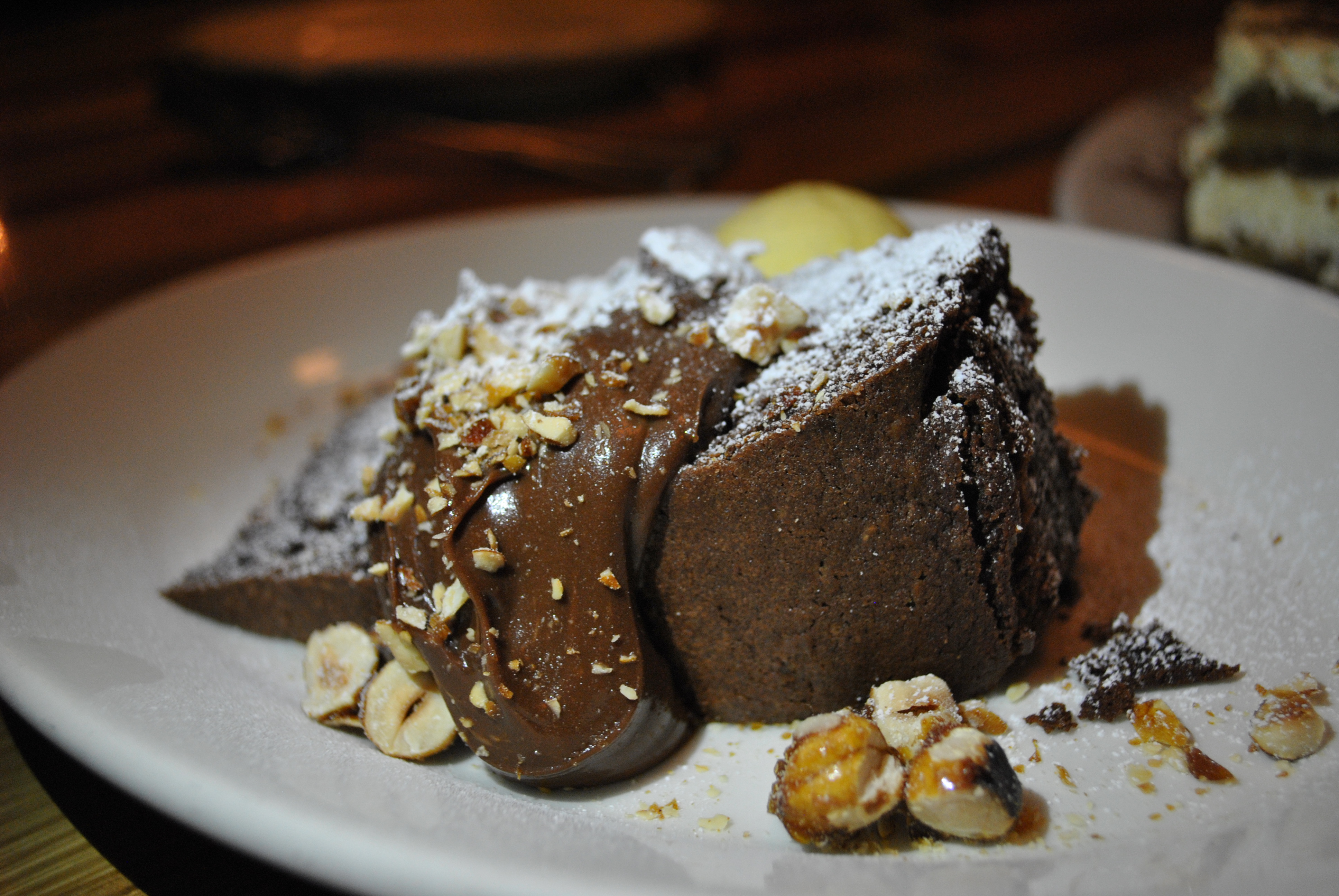 As a lover of Nutella, anything that combines chocolate and hazelnut will win me over.  This cake was so decadent, so rich, so good. I hope they make it a regular part of their menu. Everyone deserves to taste a piece of heaven.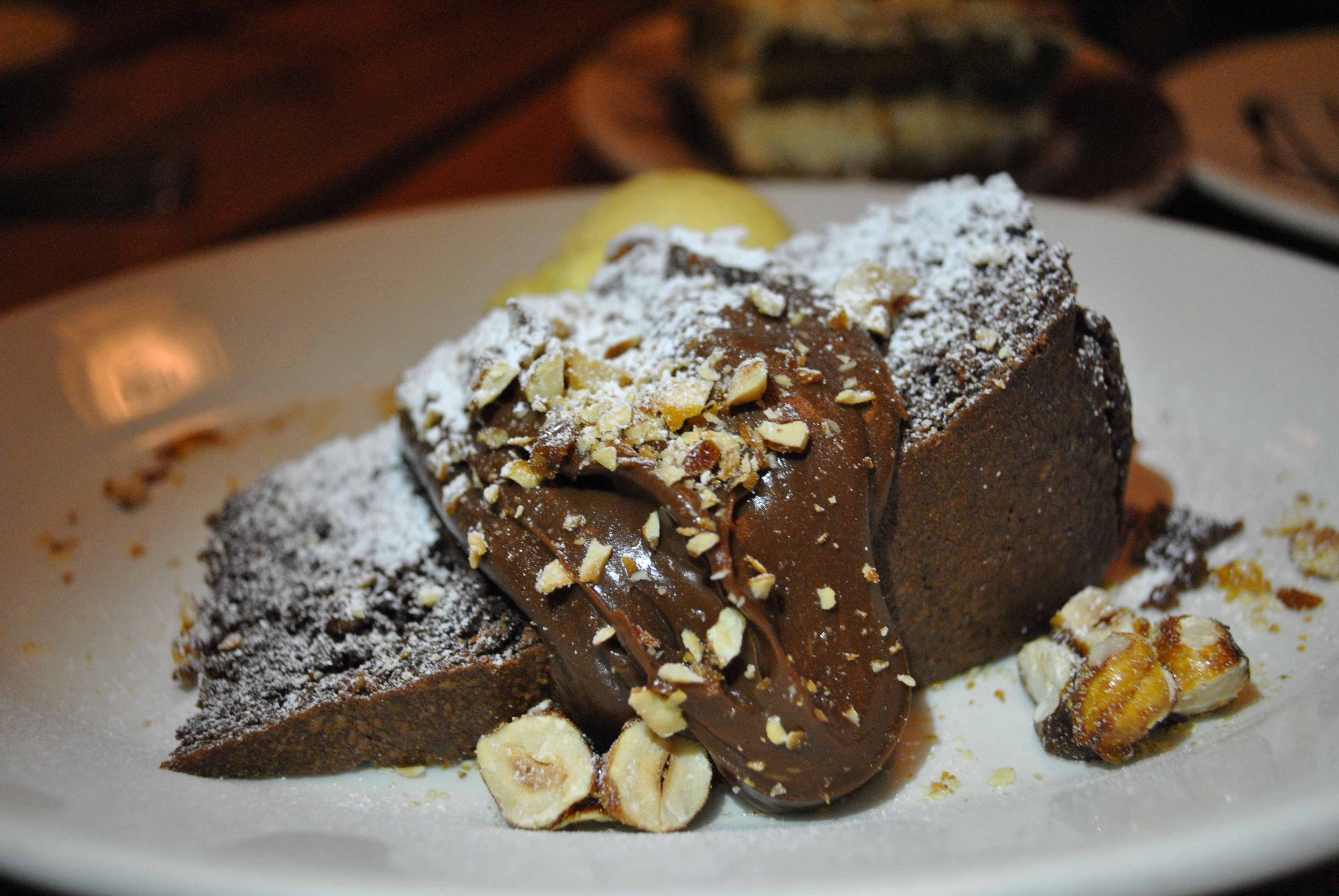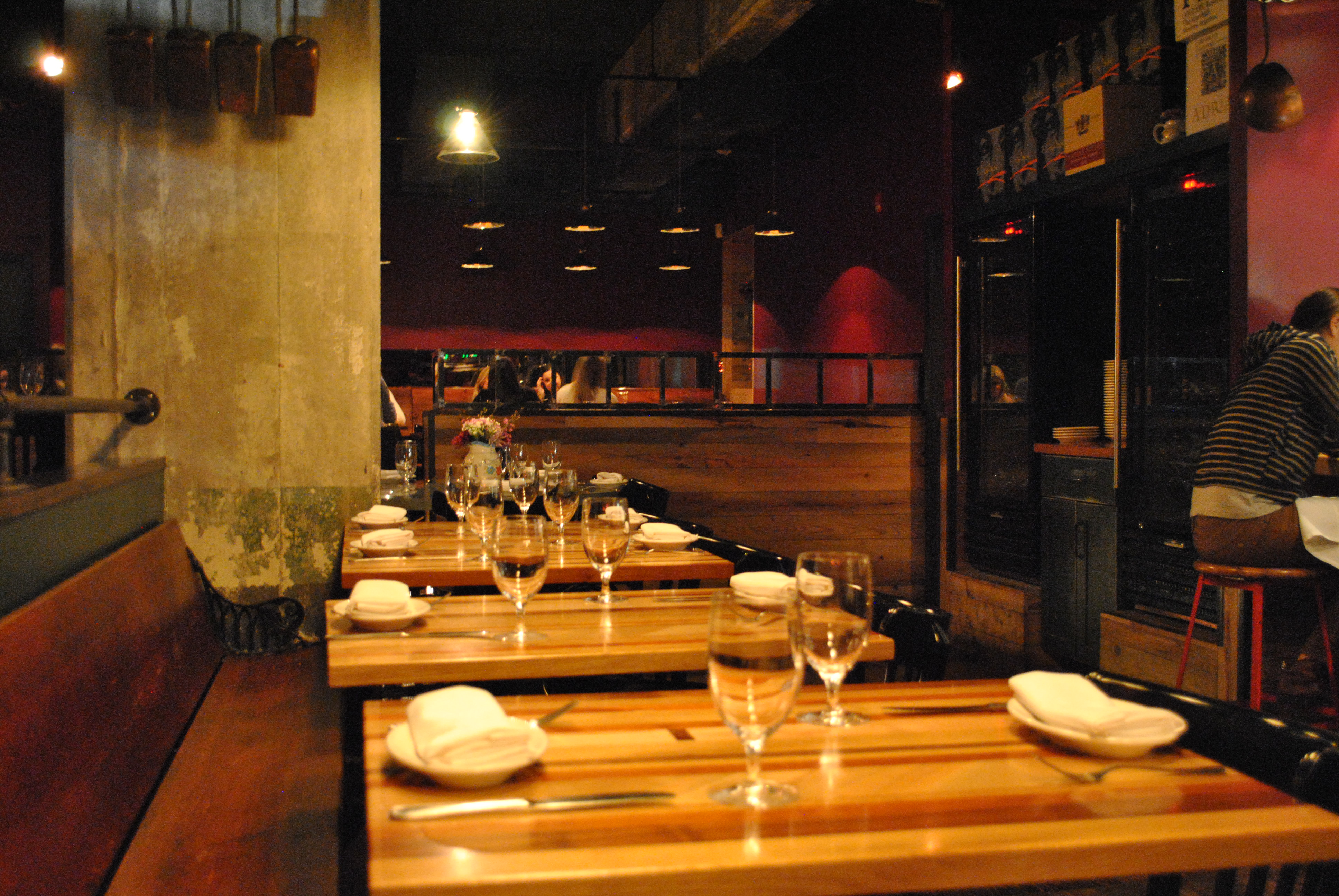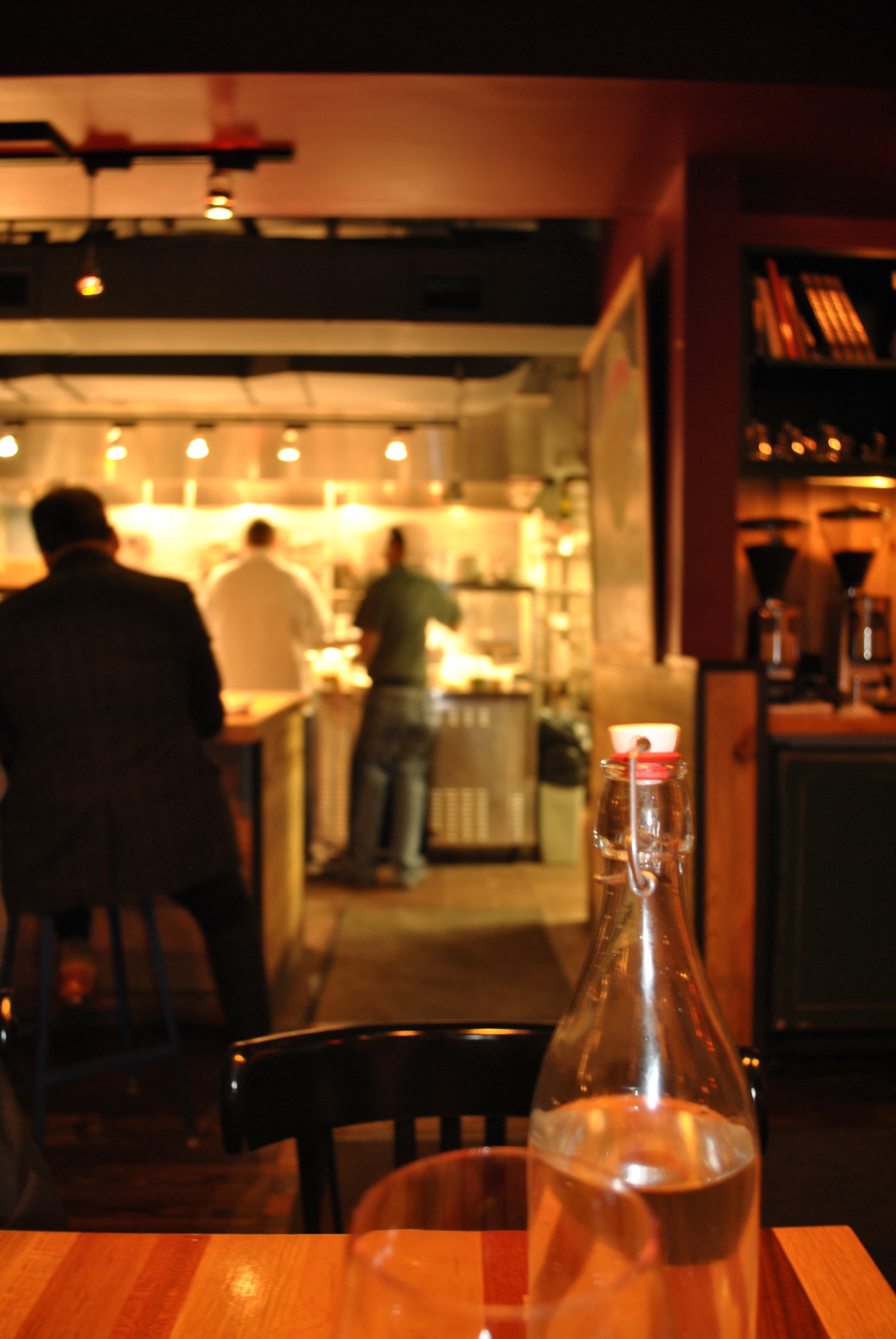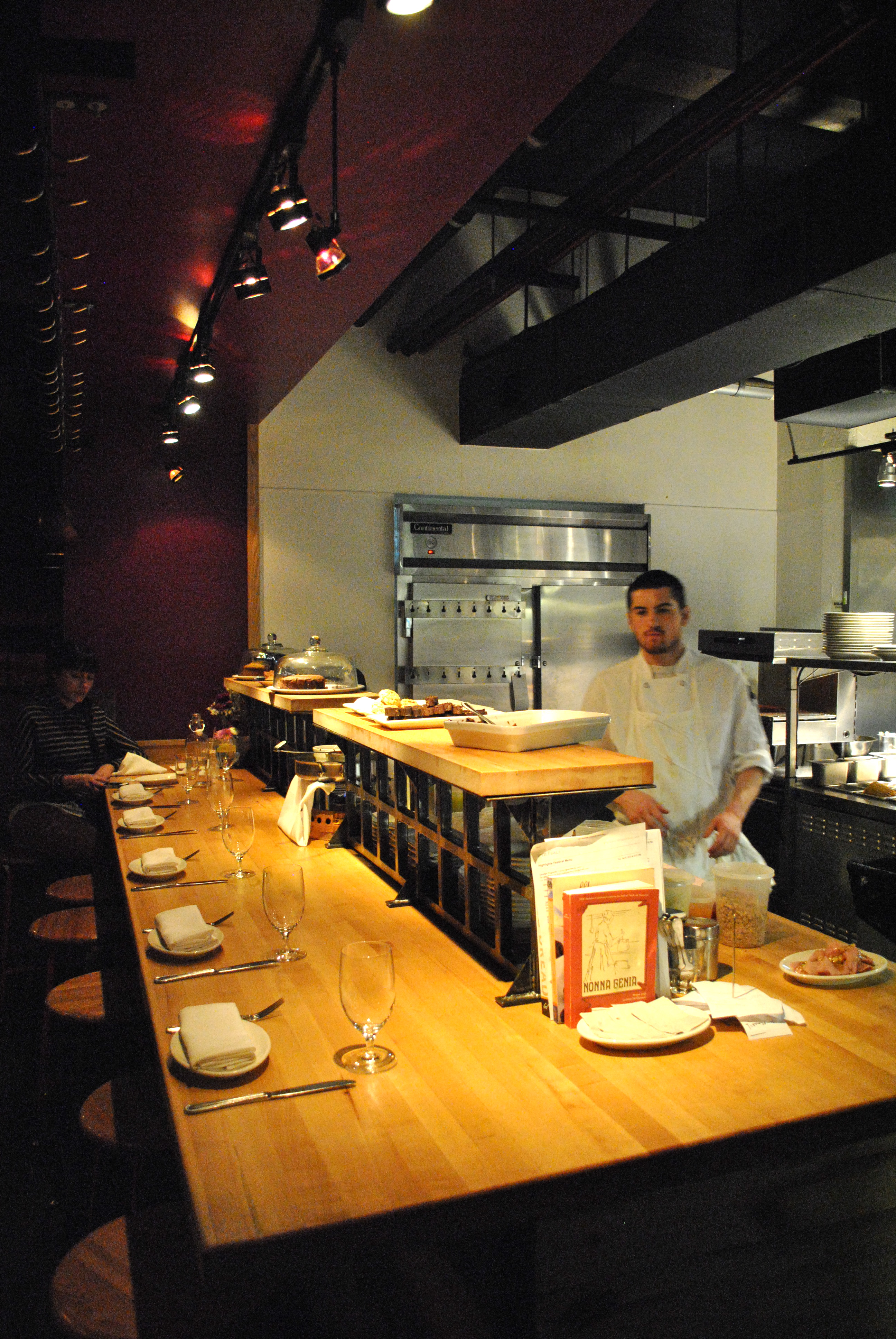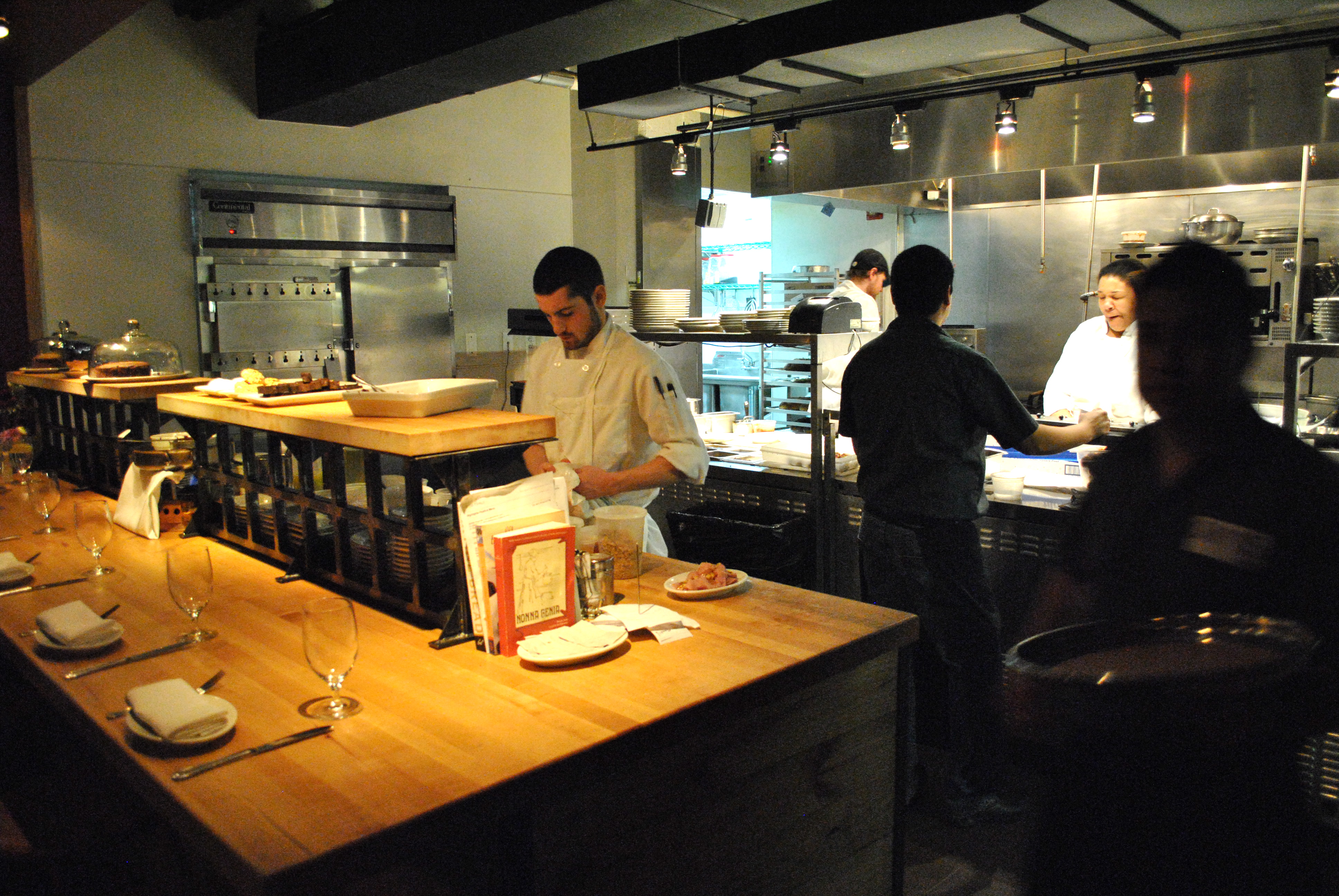 And so with that our evening at Amis came to an end. Now I understand why Anthony Bourdain made a point to dine here on his two day trip to Philadelphia. It simply is one of the best Italian restaurants offering authentic Italian cuisine.