After almost a week in Hoi An relaxing by the beach, eating delicious Hoi An specialties and buying enough lanterns to fill an entire suitcase, we took a flight to Ho Chi Minh City (former Saigon).  HCMC was exactly the opposite of Hanoi, commercialized, busy and overall what you would expect from a large city. Besides posters of Ho Chi Minh and communist flags there was little evidence of communism.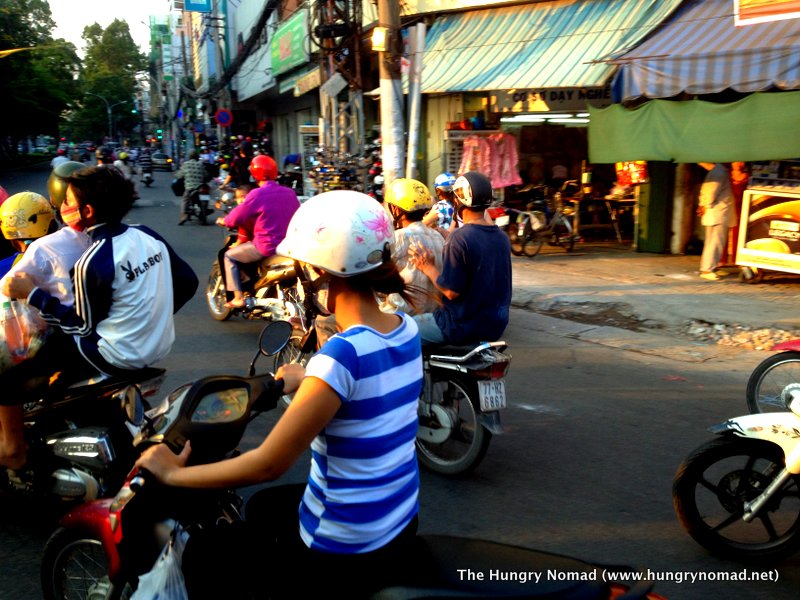 We spent 2.5 days in Saigon which in my opinion was enough time if you have a tight travel schedule. The best part of our trip was our incredible stay at the Intercontinental Saigon which was well located in the middle of everything, the rooms were incredibly comfortable, service top notch and the breakfast buffet was a feast not to be missed.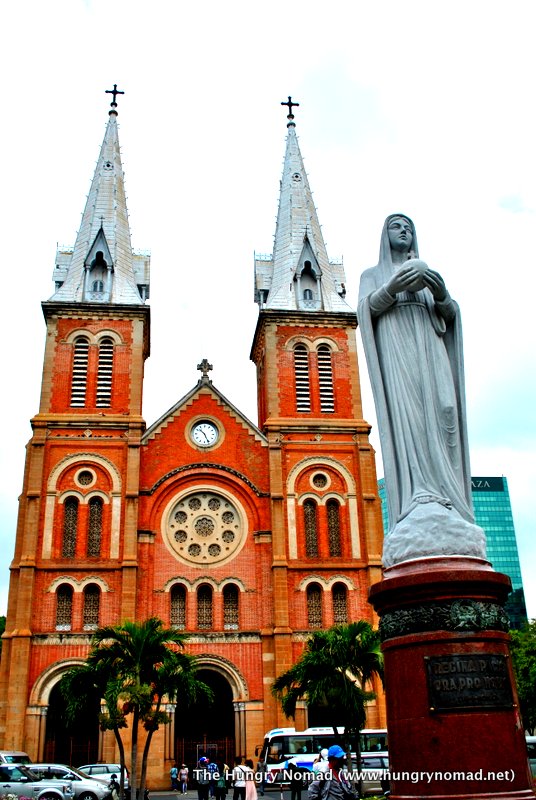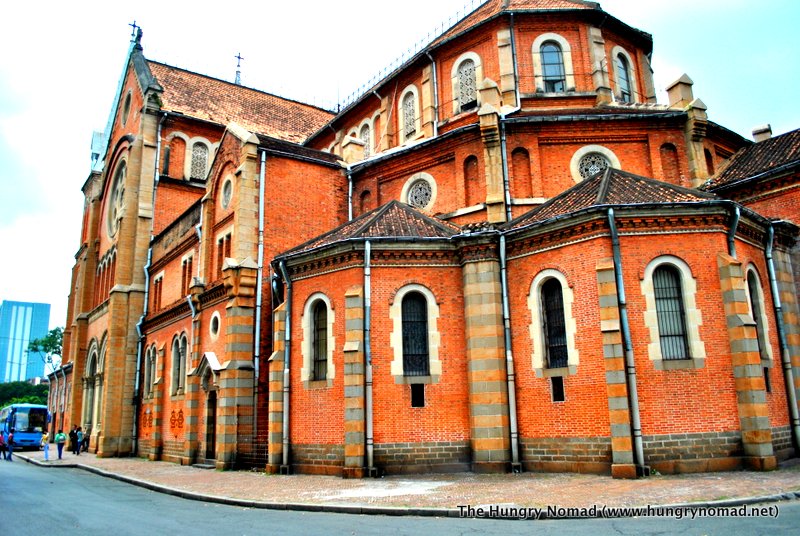 Day 1: Starting off at the Intercontinental we walked to the Saigon Notre Dame Cathedral.
Saigon Notre Dame Cathedral- No. 1 Cong truong Cong xa Paris St.  A massive site and reminder of French colonialism dating back to the 1800's. The Cathedral is made from materials shipped in from France like the red bricks of the outside walls which retain their bright and lively red color.  To the right of the Cathedral stands the Central Post Office another beautiful site designed by France's own Gustave Eiffel (as in the Eiffel Tower). The walls are covered with paintings of historic maps of Saigon, Cholon and South Vietnam. Walking further across the square in front of the Cathedral, we arrived at 30/4 Park, a perfectly manicured green space with many large signs of Ho Chi Minh, reminding those who forget that the country is formally a Communist nation. After a walk through the park, we arrived at the grand Reunification Palace (formerly the Independence Palace).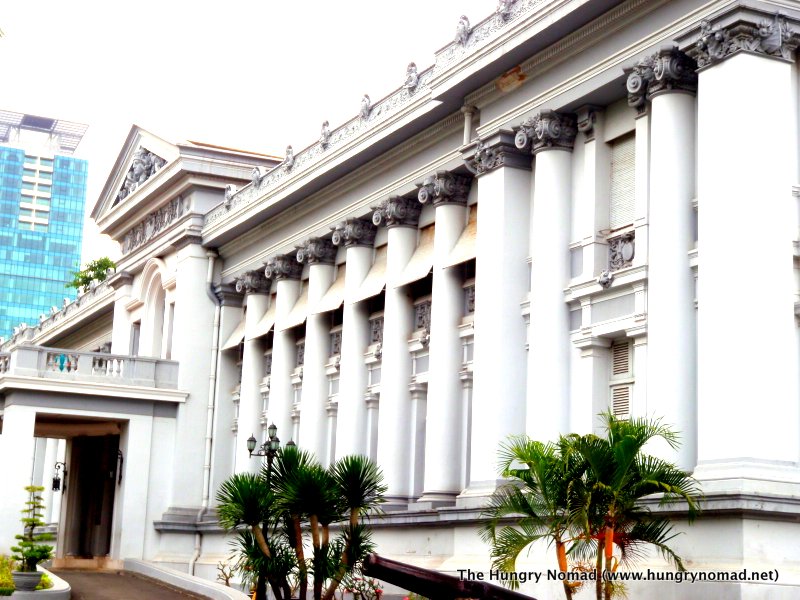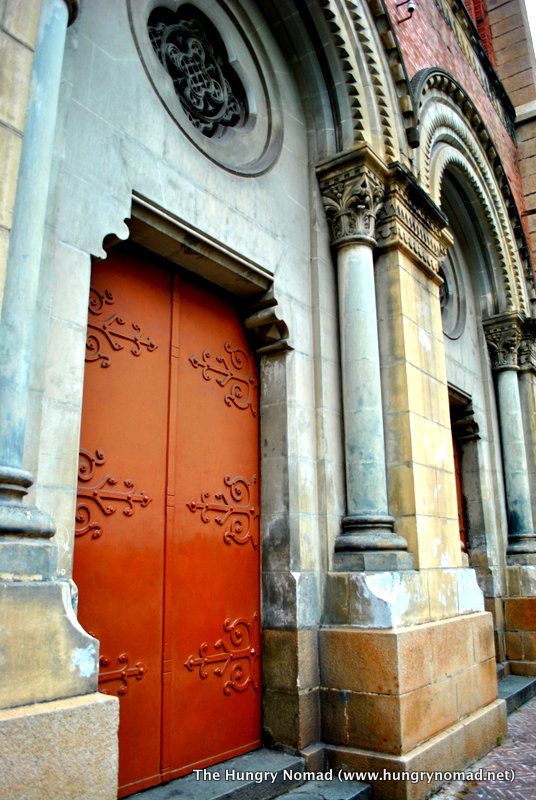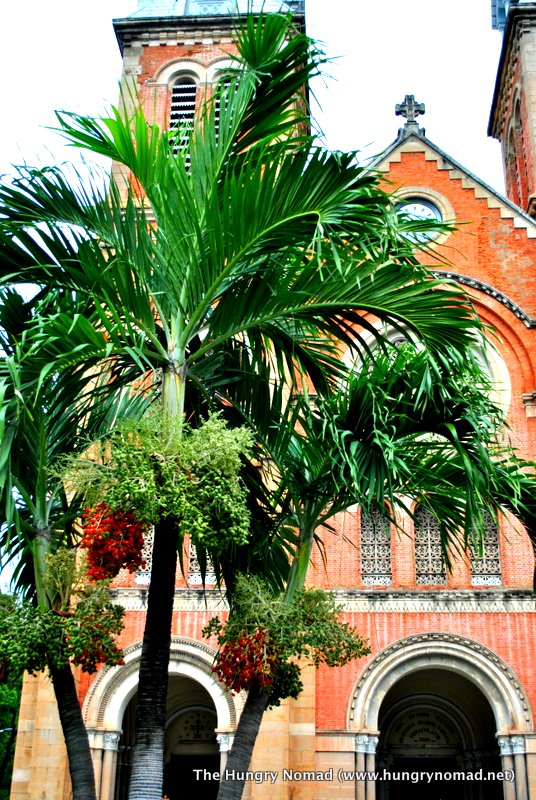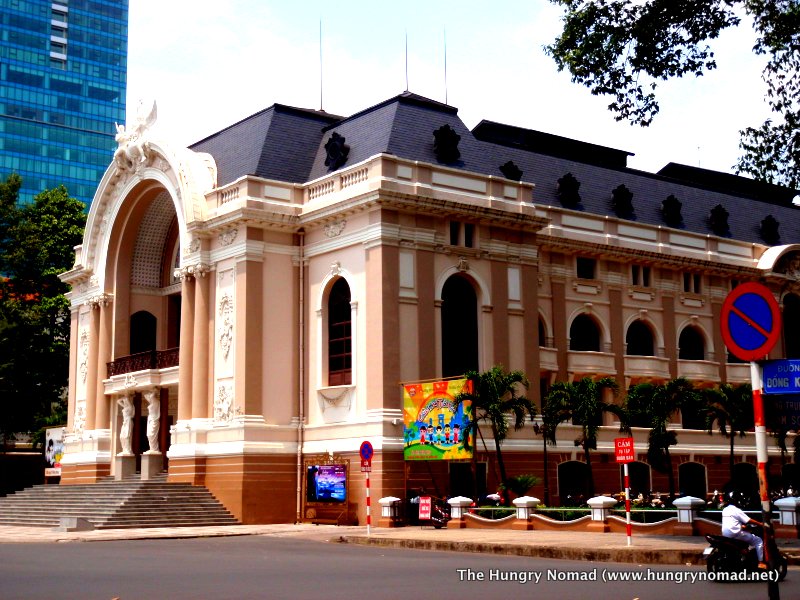 Reunification Palace:  135 Nam Ky Khoi Nghia Street, District 1, Ho Chi Minh City.  It is a site worth visiting for the history buffs and those who remember the North Vietnamese tanks breaking through the gates of the Palace on April 30th, 1975. The palace was built on the site of the former Norodom Palace, a landmark in Ho Chi Minh City and designed by architect Ngo Viet Thu. As Vietnam was split into North Vietnam and South Vietnam, the building served as presidential home and workplace (with eerie underground bunker beds and war rooms).  It is now a museum and a reminder to all of Vietnam's past. The building itself is a mix of traditional and modern design.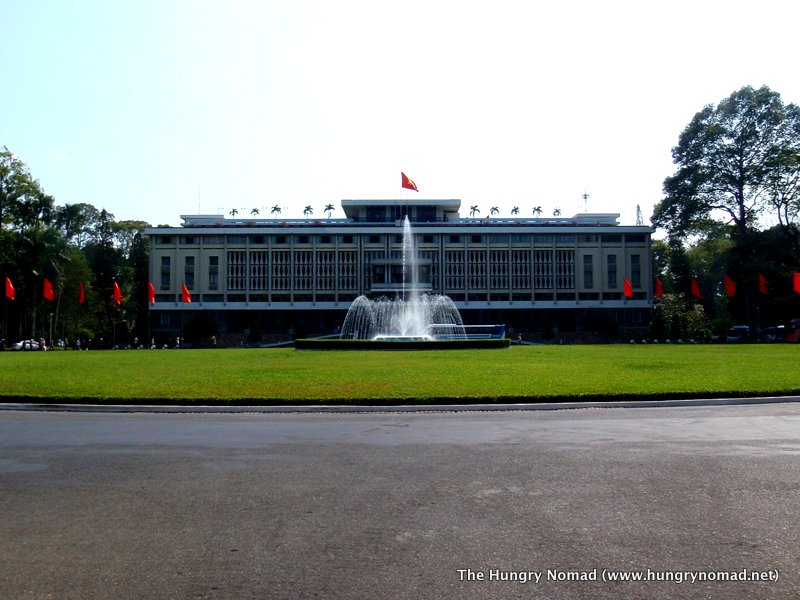 Next, we walked across town to the newly built Bitexco Financial Tower which really seems to represent today's Vietnam. For 200,000 dong you can ride all the way up the 68 storey building to take in the view of Saigon. The building is designed in a shape of a lotus flower bulb although I really did not see the resemblance. Walking through a close by market really highlights the contrast of the old and the new, summing up today's HCMC.
In the afternoon, we decided that the best way to see as much of HCMC as we could we would sign up for a city tour. It turned out to be a great experience, our tour guide well conversant in English and explained the history and importance of every place we visited thoroughly. The tour started off at the Jade Emperor Pagoda.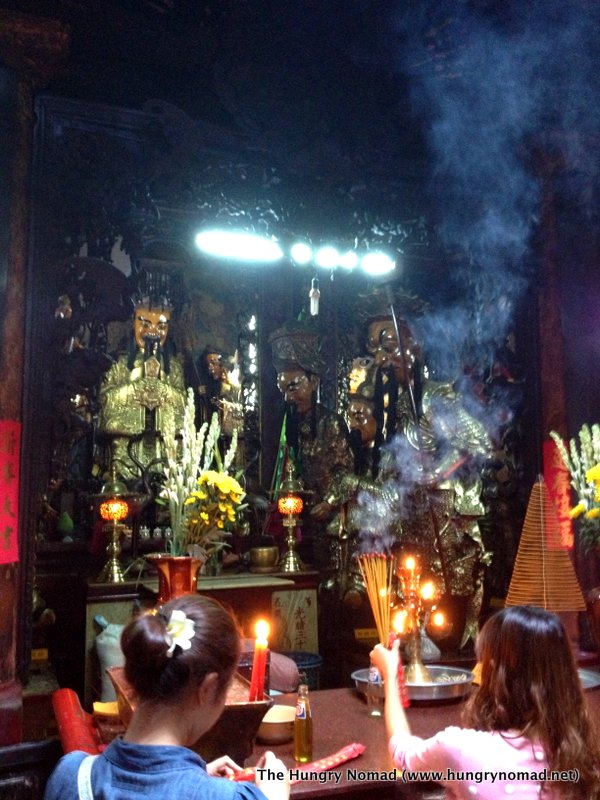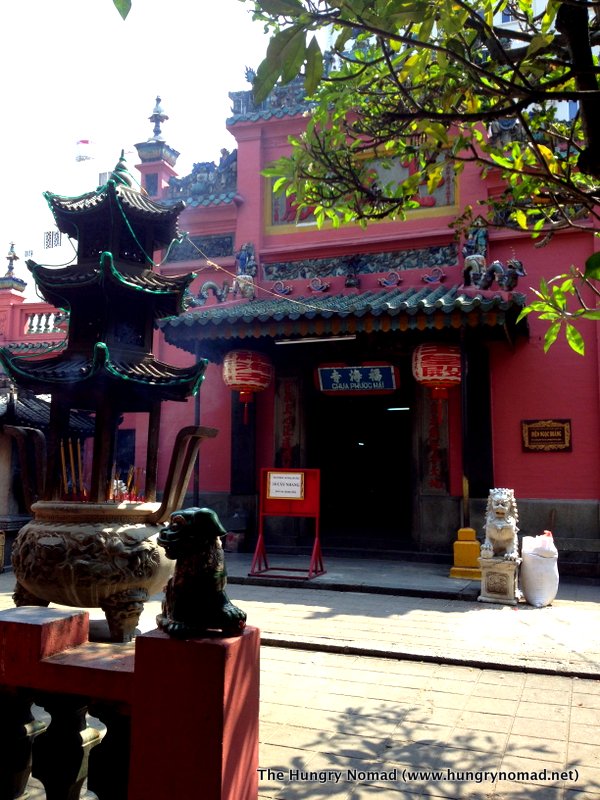 Jade Emperor Pagoda- Phuoc Hai Tu, 73 D Mai Thi Luu). A small pagoda set north of the botanical gardens on Nguyen Binh Khiem, in a side street filled with turtles, birds and clouds of incense smoke. Did you know that the smoke from the incense represents a path for followers to send their message to the Buddha?  The pagoda was built by the city's Cantonese community at the turn of the century, the Jade Emperor guards the entrance to heaven and decides who gets in. Inside of the main sanctuary is the Hall of the 10 Hells. I would have understood nothing had it not been for our tour guide who explained that the wooden panels depict the 10 levels of hell and what is awaiting sinners in each level.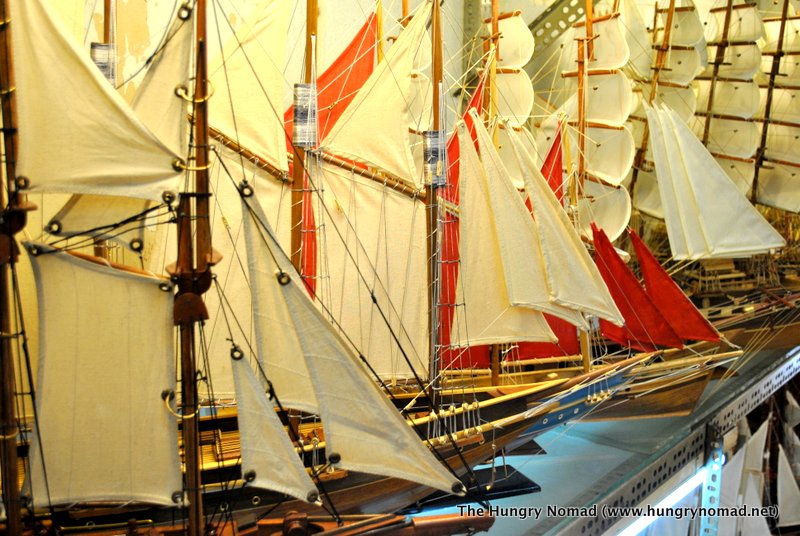 We then made our way to the Ben Thanh Market where our guide gave us 30 minutes to shop around. We were told to offer 30% of the asking price on anything (sadly we only learned this on the second to last day of our trip). This made things difficult as it's hard to bargain when coming from a country where bargaining is practically non-existent. The market itself was also built by the French in 1870 and was called Les Halles Centrales (similar to Les Halles in Paris) before being renamed in 1912. You can find practically anything in the market although nothing is that cheap. We left with little in hand. And made a visit in the evening to the neighboring night market to scavenge for good deals. Again left empty handed. But the food at the market is not to be missed. This is real Vietnamese food at its best. One section of the market is lined with food stalls offering freshly made to order dishes.
We were then transported to buzzing, energetic and colorful streets of Cholon in District 5– the Chinese district of Saigon. Prior to visiting the area I had my Western vision of a distinct 'Chinatown' like the ones I am used to seeing in Canada and the US. However, there was nothing distinctly Chinese about the area except the history. Cholon meaning 'big market' is covered with a series of streets filled with various vendors including traditional chinese herb shops and everything else you may need if you search long enough. The area also is home to the Binh Tay market, a Chinese style architectural market which strictly sells wholesale goods.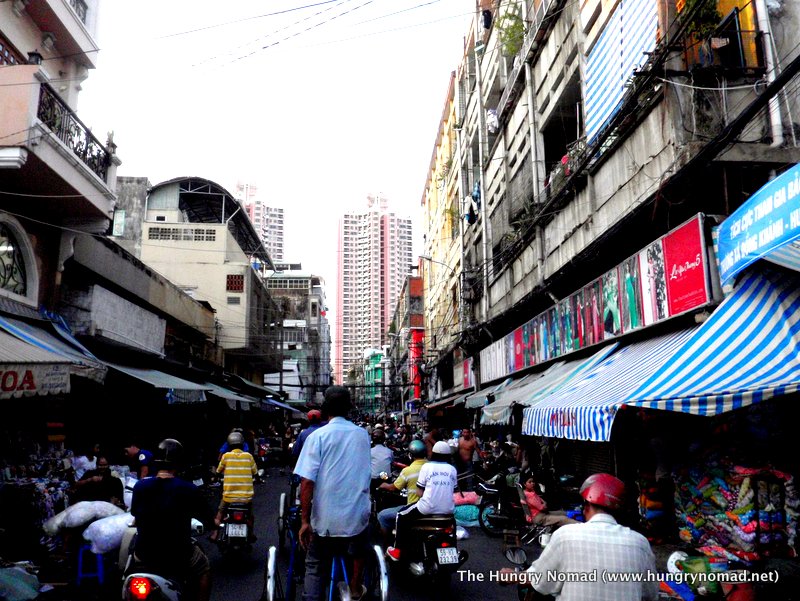 While traveling through the area we were repeatedly told to watch out for our belongings, even to the point of taking off any gold necklaces, storing cameras in our bags and keeping a low profile. But more scary than the prospect of being robbed was dodging the millions of motorbikes which drove on with purpose and an amazing orderly chaos which is quite admirable.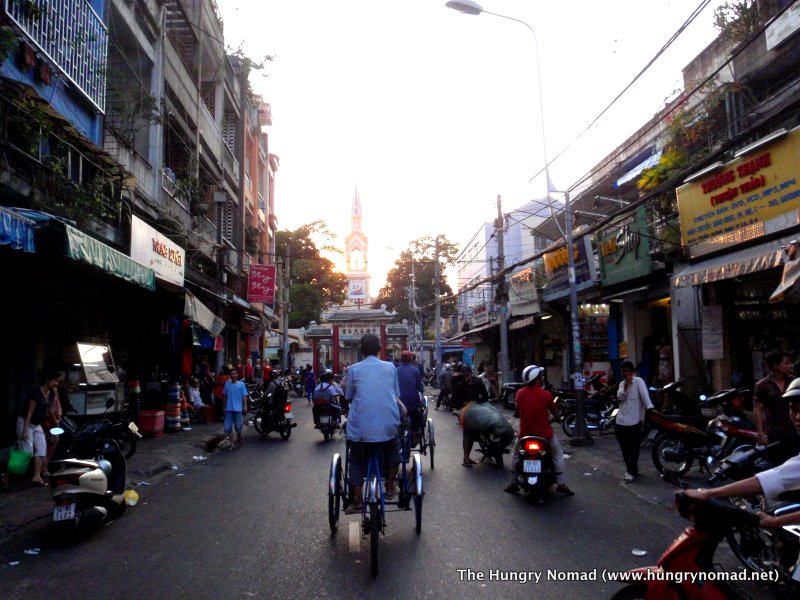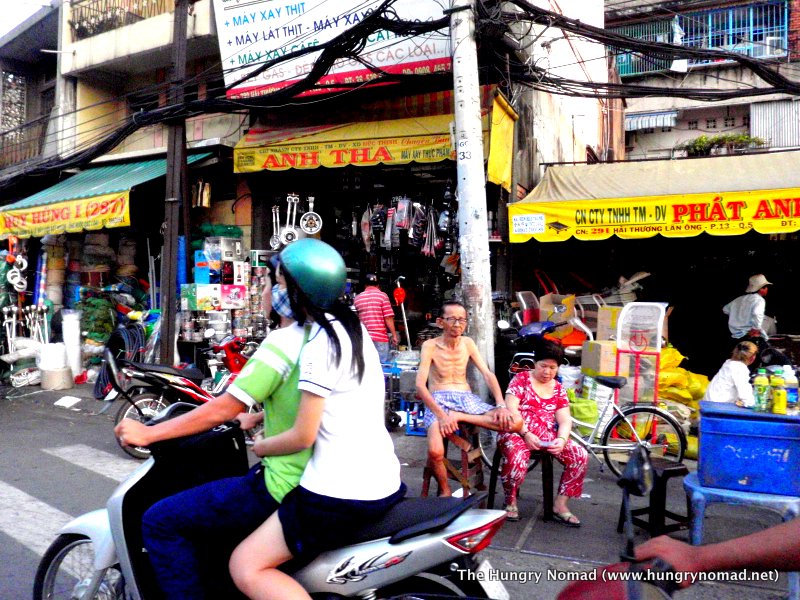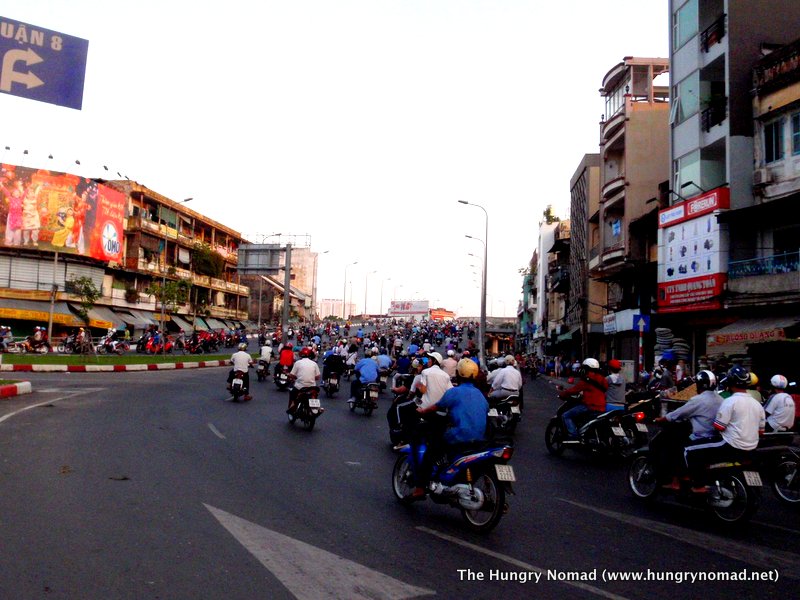 Day 2: Cu Chi Tunnels
We decided that our second day in Saigon would be spent floating through the Saigon river to the Chu Chi Tunnels. Although hesitant at first I am glad that I chose to do this as it was one of the highlights of my trip (although my minor in college was history and I spent a lot of time studying the Vietnam war- it might not be a priority for those who don't care much about war remnants).  We went with a boat tour that served breakfast and lunch on the high speed boat arranged through our hotel. It was the best way to visit the area. Once off the boat we were taken to a shelter where we were shown a black and white war propoganda movie. Next came the tour of the underground tunnels which are slightly scary, especially for those who have claustrophobic tendencies. I for one could only make it half way and had to retrace my steps back out gasping for air. To think that entire villages lived underground in these conditions for years during the Vietnam War is truly heartbreaking.
Our stay in Saigon was short and sweet. Despite it being a large city there is plenty to do and see. During most of our stay in HCMC we were warned by hotel staff, restaurant staff and anyone who chose to talk to us to becareful with our belongings and my prized Nikon (I chose to leave it in the hotel safe on the second day out). Despite the warnings, we had a relatively safe stay in HCMC, with the only minor detail of paying a coconut street vendor almost $20 dollars for 3 coconuts. If you have good bargaining skills and street smarts you should be okay. Ending our trip to Vietnam in Saigon was bittersweet. I fell in love with Vietnam, the people and the food. There is so much history and so much beauty to this place, it's no wonder so many countries were fighting over it for so long.