Vancouver, British Columbia…the most beautiful place on earth. At least that is what the license plate claims. But really, it is! I may be biased since I am from Vancouver and spent the majority of my life there before moving south of the border. And while the natural beauty, scenery and wildlife may take your breathe away, Vancouver has even more to offer. The diverse mix of immigrants that now inhabit Vancouver has brought with it some of the best restaurants and food in North America.  Here is my list of go-to spots in Vancouver that I never fail to visit when I am in town. I would love to hear what your favorites are in the comments below so that I can consider them on my next trip home and add it to my list!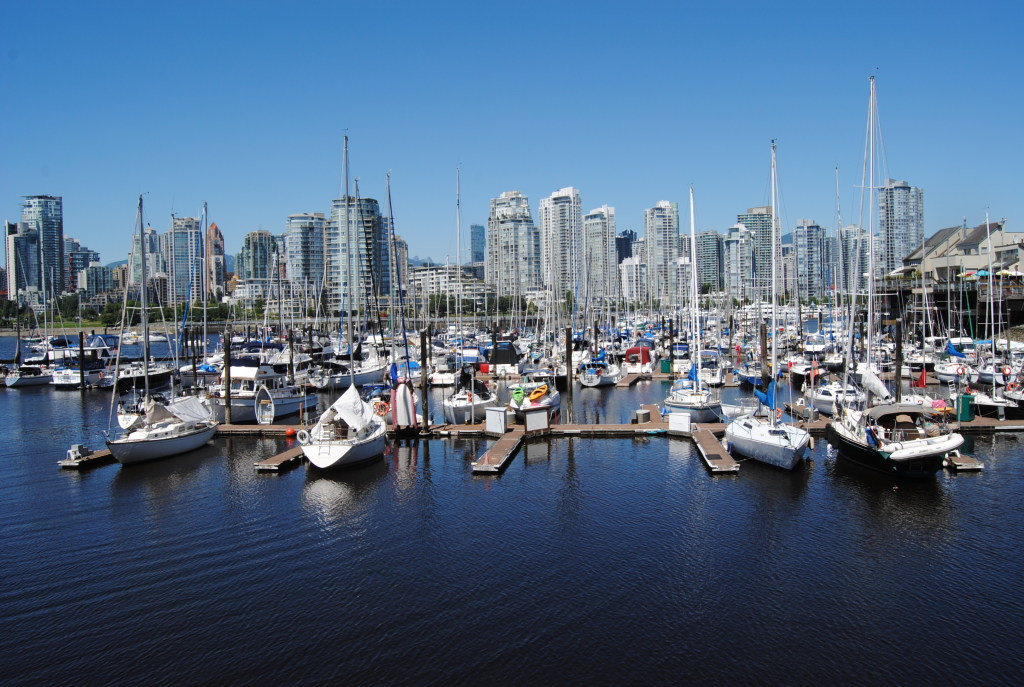 Brunch:
From the same owners as Chambar, Medina serves Belgian-Moroccon cuisine. Lines up go around the block and can take hours but once inside the food will make you forget that you waited for so long. Don't miss out on the classic belgian waffles and the lavender lattes. Twisted Fork serves some of the yummiest brunch in town. I always go for the banana stuffed french toast which is an unforgettable experience in decadence.
Or choose to spend the morning in Stanley Park, the sprawling urban oasis of greenery and water that is the West Coast's rival to Central Park. Begin at the Teahouse in Stanley Park, a well-known brunch spot, both for its location and Canadian Northwest twists on some classic breakfast items. Ask for a table by the window to look out over English Bay and West Vancouver. Don't miss the smoked salmon Benedict, which comes with local sockeye salmon. (7501 Stanley Park Drive; vancouverdine.com/teahouse).
Chinese:
It is not a surprise that really good chinese food can be found in Chinatown and while there are really authentic spots where you must visit with a mandarin/cantonese speaking friend (for which I'm lucky to have one) there are other more modern restaurants that have started popping up in this up and coming hip neighborhood. Bao Bei is a really hip/hipster restaurant that has really good chinese food with a twist. Phnom Penh is another favorite located in Chinatown. And while the name might suggest the food is a mix between Cambodian, Vietnamese and Chinese.  It offers some favorite classics like the chicken wings.
Dim Sum:
For one of the most genuine Asian cultural and culinary experiences in North America, go to the Aberdeen Center for dim sum at Fisherman's Terrace (3580-4151 Hazelbridge Way, Richmond). This sprawling Asian shopping center has an entire store dedicated to Hello Kitty merchandise, a Korean barbecue and a pan-Asian supermarket, among other treasures. Many options are also available downtown in Chinatown. The Jade Dynasty Restaurant (137 Pender Street) offers good-value dim sum, or just wander along the road and choose one of the many restaurants that takes your fancy. 
French/Belgian:
My favorites include Chambar (562 Beatty Street) is a sophisticated, funky restaurant serving innovative Belgium, French and Moroccan food using regional ingredients. Les Faux Bourgeois  is a french bistro located in Mount Pleasant. If you want to feel a little bit of France and have authentic French food then make the trip out of downtown to Mount Pleasant. Wait times are long but it is definitely worth it. Another French favorite located downtown is La Brasserie located in Davie Village.
Indian:
There is a large Indian population in Vancouver which means one thing: really good and authentic Indian food. For the real deal you must head to Main street and Fraser street to 'Little India'. Here you will find a vast number of Indian restaurants where cheap eats are a plenty. However, for a more upscale evening, head to one of my favorite restaurants in Vancouver: Vij's (1480 W 11th Ave). Owners Vikram and wife Meeru pride themselves on quality Indian food in a beautiful setting. The restaurant is quite small and the wait time often is over 1-2 hours long. So be prepared to wait a while and get drunk in the process. My favorite item on the menu? The Lamb Popsicles!
Italian:
An area in Vancouver that should be explored if you have time is Commercial street- Vancouver's own version of Little Italy. Here you can find a range of great Italian food. Outside of the Commercial street area are a wide range of great choices including my favorites: Campagnolo and Campagnolo Roma. 
Italian Pizza options are also great in Vancouver including Nicli Antica Pizzeria in Gastown and Pizzeria Farina.
Japanese: 
Starting off at the intersection of Denman street and Robson street is where the feast begins. For the best ramen downtown, I usually head to either Motomoki Shokudo (740 Denman Street) or it's sister location, Kintaro Ramen.  Try the black bamboo charcoal ramen. It is quite possibly the best broth you'll ever taste.
Further up on Robson street is another all-time favorite, Guu with Garlic, a Japanese Izakaya restaurant which opened its doors in the early 2000's and quickly gained so much popularity that it now has multiple locations around Vancouver and Toronto. (Below is the grilled squid served with a side of Lemon and Japanese Mayonnaise).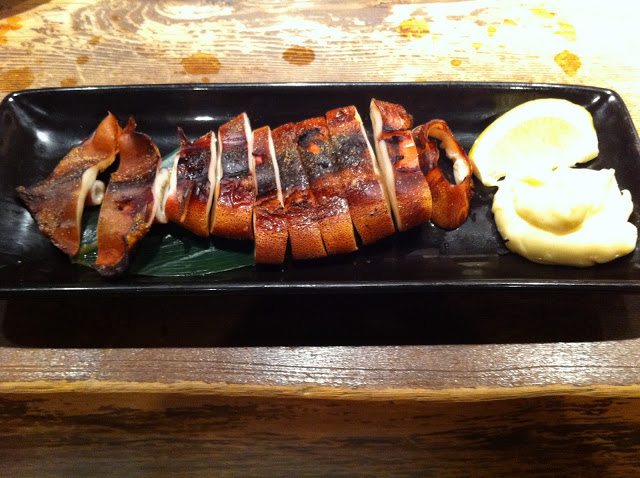 For the best hand-made gyozas in town I always head to Gyoza King (1508 Robson Street), a small and cozy Japanese bistro where you can choose from a variety of gyozas and other Japanese favorites. My number one pick: the shrimp and chive gyozas with a bottle of unfiltered sake to wash it down.
Sushi:
Where to begin on this one? Sushi restaurants cover the streets of Vancouver just as frequently as Starbucks. Some authentic, fresh and delicious and others are just in the business to make money. Making the hunt for good sushi a fun challenge (although to be honest even the mediocre sushi bars in Vancouver are far better than most sushi I've tasted around the US)! For a healthy organic sushi meal I head over to the tiny little gem, Shizen ya, located on Hornby street directly across from the courthouse.  For a more upscale experience with unique takes on sushi, Miku (#70 – 200 Granville St) is the place to be. The sushi is amazing and takes on a form of art. If in Yaletown, Blue Water Cafe + Raw Bar (1095 Hamilton St) offers a vast range of fresh seafood, sushi and BC coastal fare. It is a classy affair and on the pricey end but if in Vancouver for a short time it should not be missed.
Sandwiches:  
Finchs Tea and Coffee House (353 W. Pender Street) is a classic Gastown gem serving some of the best sandwiches in town. Favorites include the proscuitto, pear and baked blue brie cheese and walnut sandwich. Absolutely to die for! Hubbub is another favorite due to their oh so delicious bread. My all time favorite is the turkey sausage sandwich which I describe in great lengths in my post.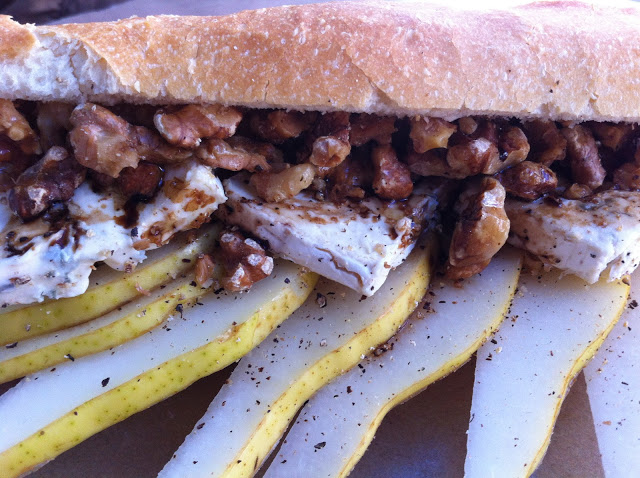 Seafood:
When in Vancouver, eat lots of seafood, the unrivaled local specialty.There are so many that I am going to list them here for you and let you pick your favorite:  Blue Water Cafe and Raw Bar, Miku, Rodney's Oyster House and Go Fish Ocean Emporium (a food stand close to Granville Island).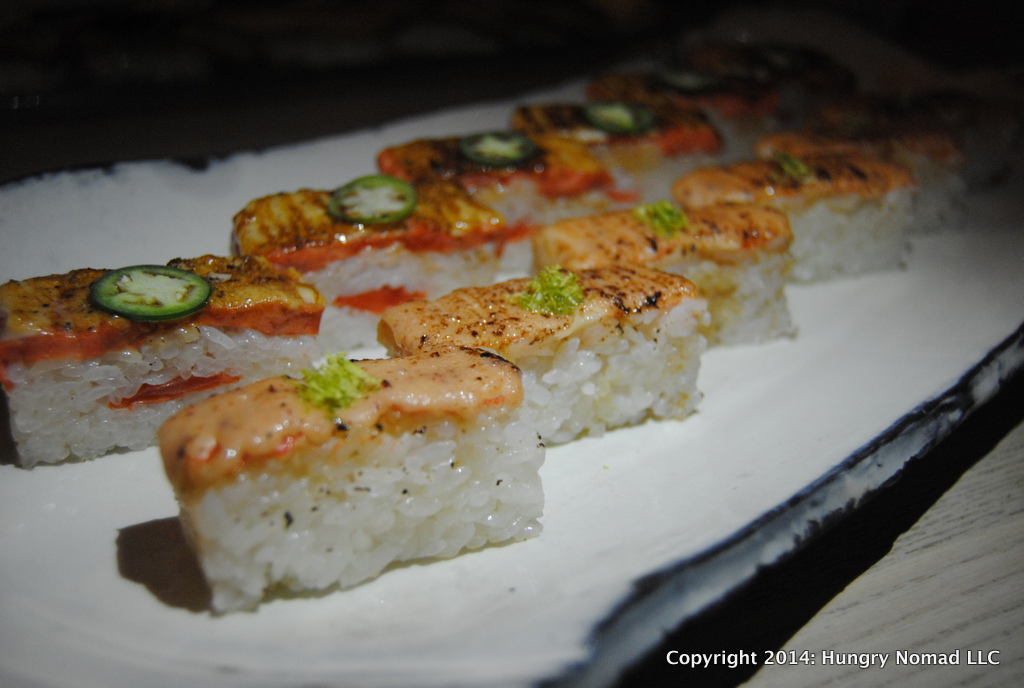 What are your favorite restaurants in Vancouver? Please add below in comment so that I can try it out next time I am in town! 
xox,
The Hungry Nomad